Lauren Engler, Cambridge School of Constanta: "A teacher can help a child unlock his full potential."
---
06 October, 2022
For World Teachers' Day, we asked

passionate

teachers in the Kinderpedia community some questions about the qualities and vision of a good teacher.

Discover below the answers of Lauren Engler, Cambridge Exams Officer at Cambridge School of Constanta.

What is, in your view, the impact of a good teacher on the future of a child?

When a teacher takes the time to truly embrace what it means to be responsible for educating and shaping young minds, they play a key role in helping children to open doors which can lead to various opportunities for growth and the discovery of who they are and who they want to become. A teacher can help a child to unlock their potential and build the skills they need to follow their dreams and create a bright future for themselves.
Which are the key attributes and competencies of a good teacher?
To be an educator means to be dedicated to the role that you play in young people's lives. Teachers are resourceful, caring and intuitive individuals who constantly strive to create a positive learning environment through innovative, creative and engaging methods of delivering theoretical and practical knowledge.
What will the teacher of the future look like (ed. 20-30 years from now)?
I believe that teachers of the future will need to be increasingly flexible, so as to nurture the different types of children entering the classrooms of the future, as the children themselves, their interests, needs and ideas are ever changing. The students of tomorrow are growing up in a dynamic society which is constantly shifting and changing in terms of both the activities available to youths and the career opportunities which are becoming more prevalent. Teachers will need to reflect the changing nature of their students in how they themselves approach education.
What elements of the education - as we know it today - do you think will stand the test of time?
The idea that education is the key to a child's future will stand the test of time, but I do believe that the way in which that education is received and the type of knowledge that will be needed will change in response to the evolving ideologies, expectations and functions of working professionals and society.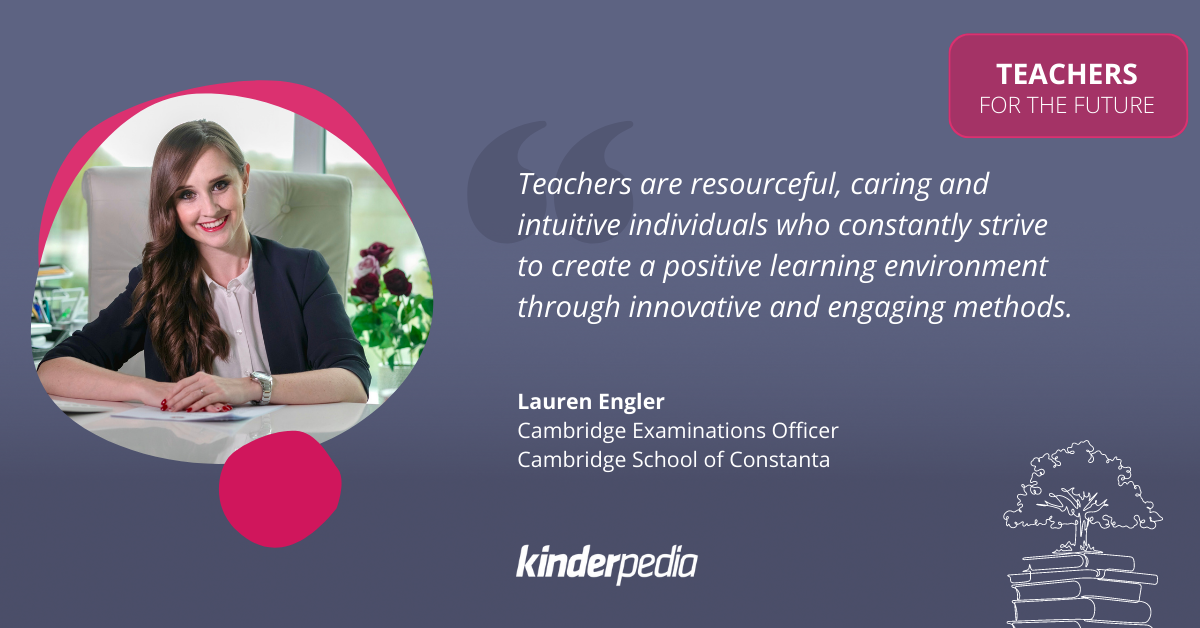 How do you see the role of technology in education - now and in the future?
Technology has made education far more accessible, with numerous resources available online and increasingly easy access to vast amounts of information via various personal devices. I believe that technology will continue to play an ever larger role in education, as new developments and applications of technology are constantly being applied in the learning environment.
One classroom experience you will never forget
Watching a group of Grade 11 students proudly presenting the outcome of a team project, a short film they had worked on as a creative response to a challenge they'd been set. They had shown wonderful communication skills throughout the time they worked together and went above and beyond what was expected because they were enjoying their work. Everyone in the room laughed and smiled together, and in that moment, the joy of education was visible on every child's face.
What was your first day as a teacher like?
Scary, delightful, inspiring and motivating. I felt nervous as my students entered the room, but once I started talking, that all fell away and I remember feeling so excited to be there and to have the opportunity to help and guide the young people who sat before me.
What was your first day at school like as a child?
I was incredibly proud to be going to "big school" and insisted on walking by myself to my classroom. I was very excited to meet all my classmates and to see who my teacher would be. I enjoyed school and liked learning new things, so I was very eager to see what each day held in store for me.
What is your role model in the area of education?
I admire other educators who have shown sincerity in their work. I have held in great esteem a number of my own teachers who showed a genuine interest in helping me as a young person trying to find my way in the world. I am thankful to those educators who saw something special in me and took the time to nurture my talents. I now strive to do the same for my students, encouraging them to explore their personal interests and embrace their own unique talents, so that they too can see how special they are and thrive as individuals.
A book you would read over and over again
I would not read one book over and over, for to only read one book is to miss out on so many grand adventures between the pages of all the other books left on the shelf.

👉 Discover the success story of Cambridge School of Constanta with Kinderpedia.
Who is Lauren Engler?

Originally from sunny South Africa, I currently live in Romania and fulfill the role of Cambridge Examinations Officer and Business Studies teacher at Cambridge School of Constanta, where I have been working for the past 5 years. I have a background in Communication Science and over a decade of work experience, across 3 continents and in a variety of fields, all of which informs and inspires my daily activities as an educator.
I have been a teacher of English and History for more than 20 years. I have also held a range of leadership roles in schools in the UK and Romania. I have three wonderful children and love to travel the world.


Contribute to transforming education with the help of technology
On the web and in the mobile app, over 25,000 educators from the Kinderpedia community have all the instruments they need to organise their daily activities. They can easily connect with students and families and collaborate with their colleagues.
We have built a comprehensive educational platform that supports students' specific needs and learning objectives. With Kinderpedia, teachers can monitor their students' progress, provide real-time feedback, and create personalised progress plans for each child.
Discover Kinderpedia - the complete communication and management solution for schools and kindergartens. Learn how it helps teachers save time and simplify their classroom activities.
---
This year, UNESCO is celebrating International Teachers' Day under the slogan "Transforming education starts with teachers".

We asked teachers in the Kinderpedia community how they see the role of the teacher in education today and in the future. Their answers have resulted in a new column on the Kinderpedia blog called Teachers of the Future.
So we invite you to discover ideas, find inspiration and join a community of teachers who value education.
Find What You're Looking For
---
Kinderpedia
The complete communication and management solution for schools and childcare centres.
Simplifies teachers' work and brings parents closer to their children's school progress.
Recommended articles
---
Want to improve your center quality? Kinderpedia is here to help! Not only do we provide thousands of informational content pieces like blog posts, podcasts, webinars and more, we are also makers of the #1 Rated and Reviewed Childcare Software.