Andreea Răvaș, Helikon School: "The teacher of the future will be able to guide children in discovering their own values."
---
04 October, 2022
For World Teachers' Day, we asked passionate teachers in the Kinderpedia community some questions about the qualities and vision of a good teacher.
Discover below the answers of Andreea Răvaș, Teacher at Helikon School.

What is, in your view, the impact of a good teacher on a child's future?

At the end of the school year I received a card from one of the children in my class saying "Best teacher in the world". Does that mean I'm a good teacher? Or that all the kids think so? Far from it. But it does mean that for a moment, for someone I was the right teacher. And the right teacher you become by building the relationship. That way we have the framework to create the best contexts for their development. And that's how we'll be able to have the impact that will be reflected in their future.


What are the key attributes and competencies of a good teacher?

In my view, a good teacher is a professional. This means having a solid background in the field complemented by authenticity, motivation and purpose. He/she is also aware of his/her role and the impact he/she has on others (children, parents, colleagues), is connected to his/her own needs and those of others, has the ability to adapt.


What the teacher of the future will look like?


I hope that the teacher of the future will be someone who knows their own set of values and is able to guide children in discovering their own values. And I also hope that they will no longer be alone because they will know how to share with their colleagues, ask questions, ask for and offer help.


What about education as we know it today do you think will stand the test of time (ideas, philosophies, practices, etc.)?


A simple idea, a theory that I resonated with from the moment I first came into contact with it and have followed throughout my career was that the factors of human development are heredity, education and environment. The extent to which they each influence is variable and depends on a number of other factors. What I have found to be certain is that you can't do education without taking the other two into account. There are two components that adjust and regulate the educational process. I think this idea will be valid in the future.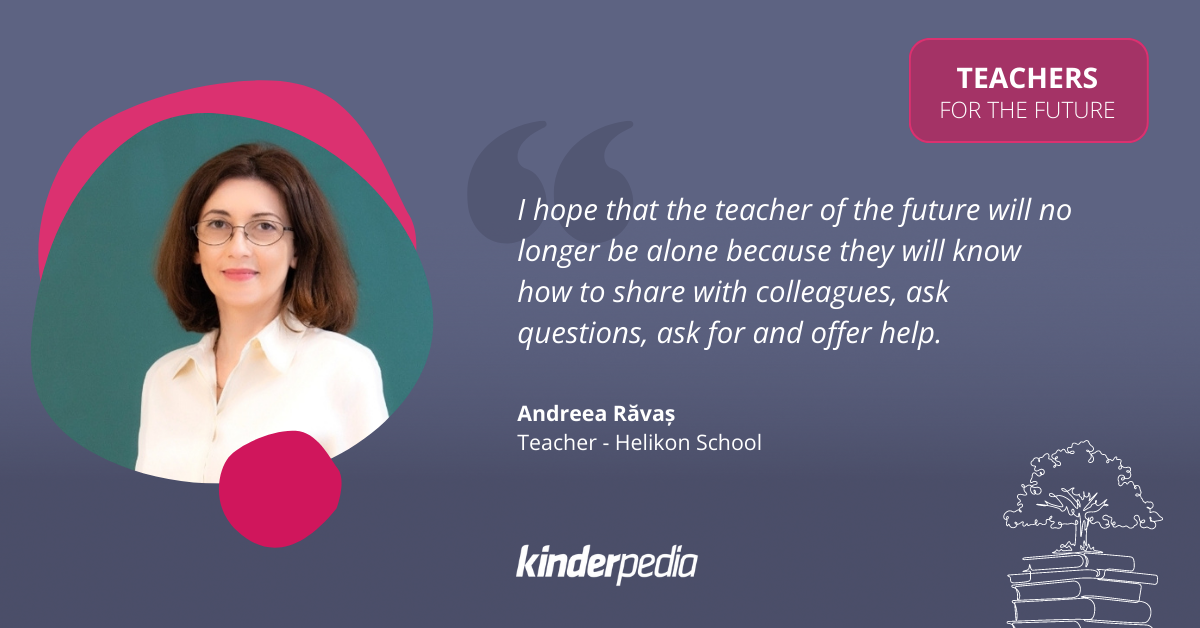 What do you see as the role of technology in education - now and in the future?


I would say that it is a tool that ensures teacher effectiveness. Apart from what you see in the teacher's work, there is also a part that involves writing documents and producing materials. This work is greatly supported by technology. Whether it is organising, writing, editing (text/photo/video) or communicating, it significantly shortens the time spent on these tasks. Time that can be used to develop relationships, well-being, cooperation or creativity.
Furthermore, the use of technology in the classroom could be part of the common language of teacher and pupil.


A classroom story you'll never forget.


Small group. Adjustment period. Nap time. Trying to soothe a child who was crying because he missed his mother and because he didn't want to sleep in kindergarten. Through tears and hiccups, he told me very firmly: "Go away! Go and wash your eyes because you're dirty!" Since then, every time I apply eyeliner I remember his reaction.


What was your first day at school like as a child?


I remember sticking close to my mother until we had to go to class. I was excited to start school and I was going to learn a lot (that's what I knew about school), but very apprehensive and reserved about interacting with so many kids.

One book you would always reread with pleasure is...
"Agony and Ecstasy" by Irving Stone.


What is your role model, in the area of education?


I admire many people whose work in education I appreciate, and I am inspired by each of them with what fits my style and personality and meets the needs of the children at any given time. I also pick up on what takes me out of my comfort zone, and that's when I feel like I've managed to grow a little more. I couldn't name just one person.
👉 Discover Helikon School's success story with Kinderpedia.
Contribute to transforming education with the help of technology
On the web and in the mobile app, over 25,000 educators from the Kinderpedia community have all the instruments they need to organise their daily activities. They can easily connect with students and families and collaborate with their colleagues.
We have built a comprehensive educational platform that supports students' specific needs and learning objectives. With Kinderpedia, teachers can monitor their students' progress, provide real-time feedback, and create personalised progress plans for each child.
Discover Kinderpedia - the complete communication and management solution for schools and kindergartens. Learn how it helps teachers save time and simplify their classroom activities.
Find out more

---
This year, UNESCO is celebrating International Teachers' Day under the slogan "Transforming education starts with teachers".
We asked teachers in the Kinderpedia community how they see the role of the teacher in education today and in the future. Their answers have resulted in a new column on the Kinderpedia blog called Teachers of the Future.
So we invite you to discover ideas, find inspiration and join a community of teachers who value education.
Find What You're Looking For
---
Kinderpedia
The complete communication and management solution for schools and childcare centres.
Simplifies teachers' work and brings parents closer to their children's school progress.
Recommended articles
---
Want to improve your center quality? Kinderpedia is here to help! Not only do we provide thousands of informational content pieces like blog posts, podcasts, webinars and more, we are also makers of the #1 Rated and Reviewed Childcare Software.