The educators within the Kinderpedia community are passionate, curious, and exploratory, and we take great pride in them. As a result, we've developed a collection of articles that allows them to express their vision of the future of education and beyond.

Discover below the story of Maria Manea, Founder of Equilibrum Kindergarten.
1. In your view, what is the impact of a good teacher on a child's future?
It may sound like a cliché, but in my opinion, a good teacher is not one who focuses only on preparing students for exams or olympiads, but one who prepares them for life. That is, the one who helps them find solutions to problems, even after they've left school.


2. What are the key attributes and skills of a good teacher?

I believe that a good teacher never stops learning. They are always concerned about what is going on in the world, with generations of students and parents, and with their field of expertise. That's why flexibility and the desire for continuous self-improvement are essential for me. And let's not forget that one of the key skills of a good teacher is communication. You can't reach the heart of your students, nor can you share knowledge or sustain their interest if you are not a good communicator and can't identify appropriate communication techniques, which are sometimes different for each child.

3. What will the teacher of the future look like?
I think the teacher of the future will need to be a mentor, whether teaching online or in the classroom. Yes, information can be found anywhere, but not everyone can turn that into real knowledge.

Learning is not only a cognitive process but also an emotional one, so children need to be inspired in the process, to feel the joy of discovery.

In terms of education, I believe in encouraging children's creativity, in whatever form it takes. If we help them to form their imaginative mechanisms, future adults will be adaptable, resilient, and, above all, people of solutions. Even if they don't find them at first, they won't give up, because their minds will always be looking for solutions.

4. What about education as we know it today do you think will stand the test of time?
I believe in the creative potential of children, in encouraging them, and in supporting parents and educators in overcoming limits. In fact, that's what I think the philosophy of education should be: to be there for children, to show them that they have potential, to motivate and support them to reach their goals, even when it's hard.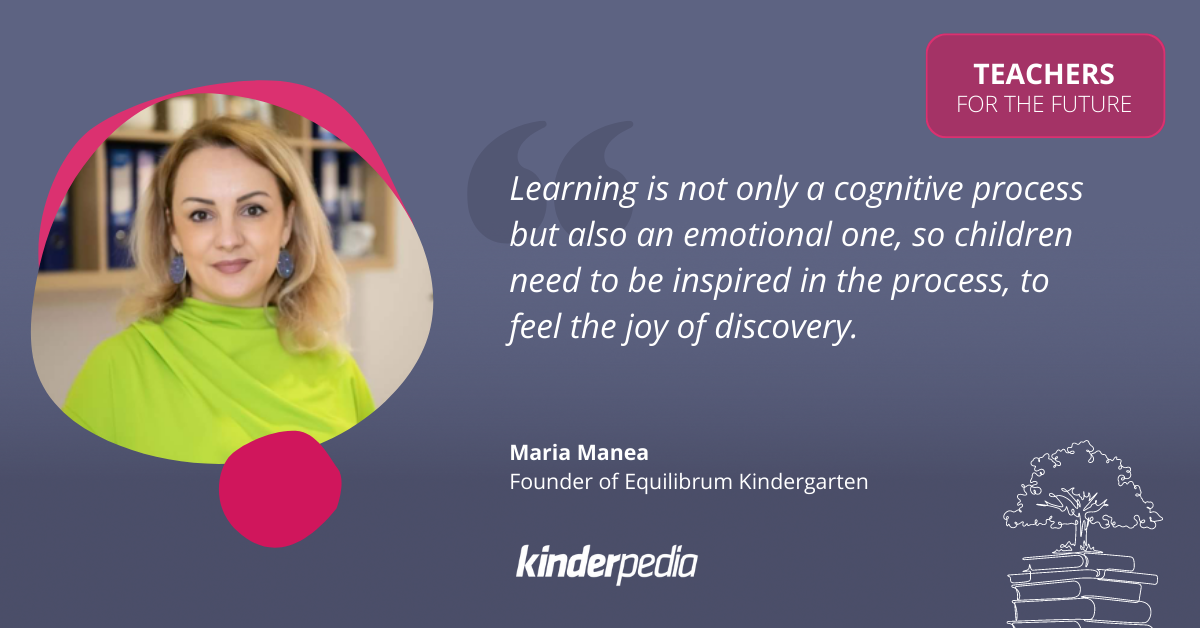 5. How do you see the role of technology in education - now and in the future?
My view is that the social and thematic discussions today focus too much on what is going wrong in terms of the use of technology in children's education and not on how it could be used constructively, from an early age, to support tomorrow's digital skills.

As the founder of the kindergarten, inspired by the Reggio Emilia educational approach, I have a duty to bring technology close to pre-schoolers, so as to support the formation of digital skills, to familiarise children with this technological universe, to raise their awareness and warn them of the dangers they would do well to avoid during their development. In our kindergarten, technology is part of the teaching activities, but this is not limited to the use of a smart board or a video projector by the teacher, where the children's participation is more of an observer type.

We use many light technological tools, such as the electronic microscope or digital cameras, so that we give children the opportunity to be participants in discovering the functionality of these tools. I believe that today, adults must be in control of their children's access to technology, but I also believe in the need to expose children, from an early age, to technological discoveries.
6. What is a classroom story you'll never forget?
I remember with emotion the moment when, in Romanian language and literature class, while reciting a poem that made every reading special, I felt so emotional that I started to cry. My students were equally moved and we cried together. It was a unique moment, an incredible connection between us!
7. How was your first day of school as a teacher?
It was the beginning of my teaching career and I was full of excitement. I was 22 and some of my students were 18. I knew the theory but had little practice, and this is exactly what I object to in the current system, this freeze in theory and the poor preparation for this profession of young people preparing to become teachers.
8. How was your first day of school as a child?
The excitement was more my parents' than mine because at that time starting school was associated with being forced to grow up, with giving up the joys of childhood. I didn't have much joy in my early years of school, but rather in high school, when I started to discover what I liked to study, to do, and then in college.
9. What is your role model in the education field?
In the kindergarten I run, I have been inspired by the Reggio Emilia educational approach, which suits my spirit because it emphasizes the child's personality, freedom of exploration and expression, experimentation, and teamwork.

10. A book that you would reread anytime with pleasure is...

There are a few books I would read anytime with pleasure, but one of them is Carlos Ruiz Zafón's Shadow of the Wind, a book about creative, labyrinthine imagination that challenges you and keeps you caught up in the game. I might associate it with an equally captivating film, Inception.


Who is Maria Manea?
Maria Manea is a Romanian language teacher at Mihai Viteazul National High School in Bucharest, founder of the Equilibrum kindergarten, inspired by the Reggio Emilia educational approach. She has over 15 years of experience in the field of education and educational management: she was secretary of state in the Ministry of Education and a school inspector in the School Inspectorate of Bucharest.
This year, UNESCO is celebrating International Teachers' Day under the slogan "Transforming education starts with teachers".
We asked teachers in the Kinderpedia community how they see the role of the teacher in education today and in the future. Their answers have resulted in a new column on the Kinderpedia blog called Teachers of the Future.
So we invite you to discover ideas, find inspiration and join a community of teachers who value education.

---
Why does Maria recommend Kinderpedia to other educational franchises?
By using Kinderpedia, teachers can save 6 to 9 hours per week on administrative tasks and redirect that time towards addressing the individual needs of each student. The platform helps educational institutions work efficiently, communicate effectively with families, foster a connected classroom environment, and automate financial processes.