Students with a flexible mindset understand that they can improve their skills through practice and dedication.
Contents:

Feedback is a powerful tool when it is given, received and integrated effectively in the context of a flexible mindset. Looking at feedback from the perspective of a flexible mindset is useful not only to improve the skills of students and teachers, but also to motivate and increase the productivity of the school community.
Feedback is effective when it focuses on the skill development process, conveys the importance of effort and motivates students to persist in learning. When they cultivate a flexible mindset, learners understand that their skills can be developed through exercise and dedication.
Feedback - impact in learning
Feedback provides information about current knowledge, but also about further skill development. Understanding progress and level of achievement enables both teacher and child to make decisions about the next steps to be planned in the learning programme, and this understanding can only take place through a flexible mindset. The learner is stimulated to actively engage with their learning strategies to make changes to improve learning.
In the following we will discover together what a flexible mindset is, why it is and especially how it helps us when giving and receiving feedback.
The flexible mindset is one of the best-known theories in modern psychology, which argues that the way a child approaches learning can have a significant impact on their ability to understand material, learn valuable lessons and solve real-world problems in the future.
Carol Dweck, a professor of psychology at Stanford University- addressed the concept of a flexible mindset when, during the 1970s, she examined the learning behaviors of a group of students and their attitudes toward failure. In her research, Carol Dweck made a distinction and classified the participants into two categories: the fixed-minded and the flexible-minded. The author of the research noted that students with a fixed mindset gave up more quickly when faced with a challenge, feedback was not accepted, and failure was seen as a stopping point.
Students with a flexible mindset believed that their intelligence and abilities were a direct result of effort, strived for more ambitious goals, put more effort into their studies, understood the role of mistakes as well as feedback, and ultimately had higher performance levels.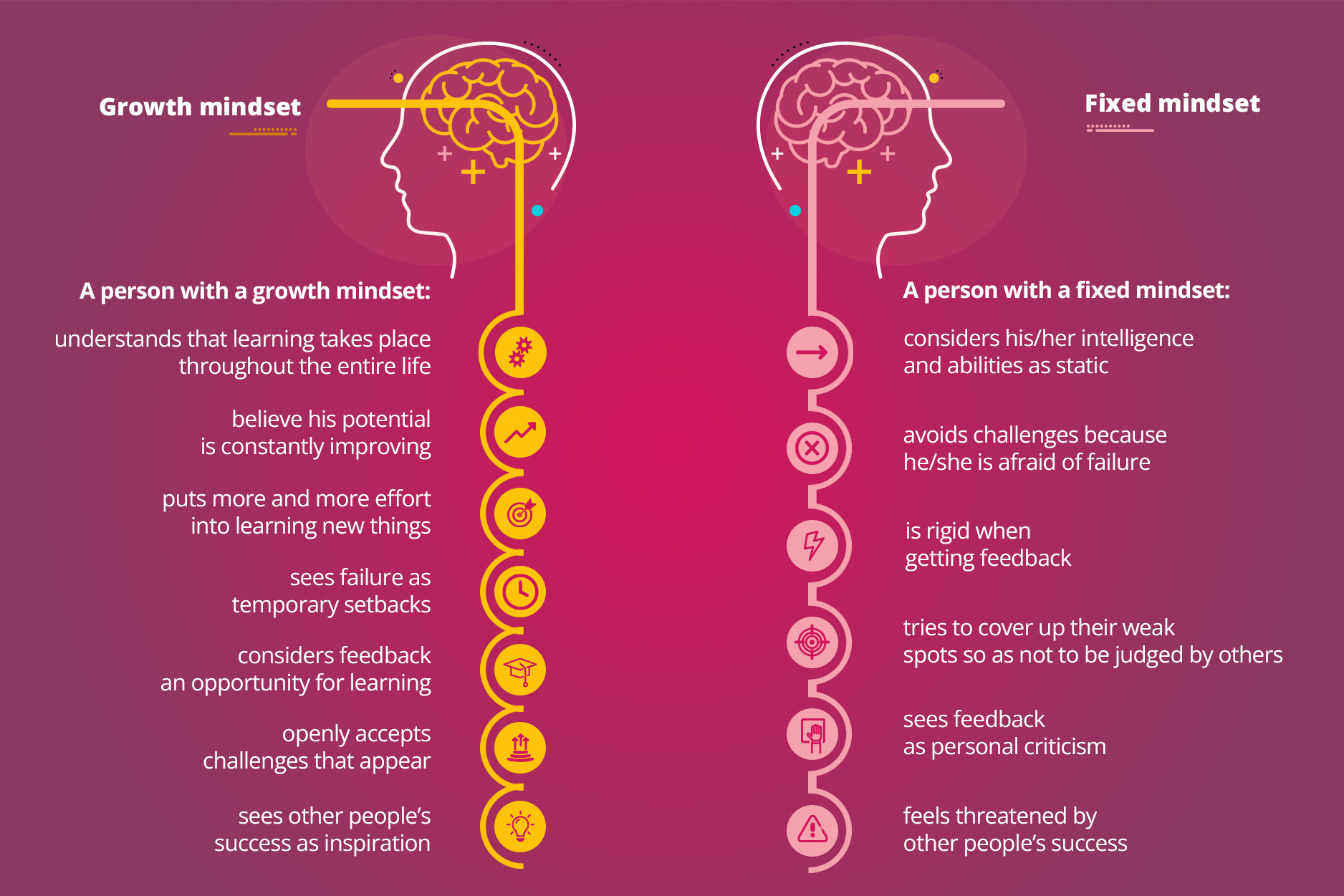 Children with a flexible mindset are more motivated to learn
Practising a flexible mindset early on helps create the perfect context for receiving and giving feedback in the future. As children learn new concepts and move through different learning units, a flexible mindset allows them to understand that feedback is a tool that supports learning and drives growth. By fostering a flexible mindset, children are more likely to be motivated to learn, to be actively engaged and to be responsible for their own journey.
Carol Dweck, interviewed in Education World, says that success in school does not depend heavily on innate talents, mastery or intelligence, but that a right mindset adds to all of these. Having an open and flexible mindset will help students become more aware of their own potential.
Feedback and a flexible mindset influence each other
To encourage open and flexible mindsets, feedback needs to move away from praising 'natural aptitude' over hard work and effort. The flexible mindset theory is based on the belief that any child, regardless of ability, can excel at school. Giving effective feedback to a child for putting in effort or working hard is much more encouraging than praising them for being 'clever'. While it is important to receive recognition for achievements, focusing on qualities such as intelligence can be less beneficial as children begin to value talent over effort.
The feedback we give children is beneficial when it focuses on the idea that every mistake we make is a vital part of the learning process and an opportunity to learn. It's not about celebrating mistakes, but it is about understanding their role and value.
Carol Dweck - about feedback
In Dweck's theory, the focus is on encouraging children to improve their strategy for identifying answers, rather than simply telling them they 'got it wrong'.
As a teacher or an adult in a child's life, you are in an incredible position to instill in them a set of values about the importance of effort in their own learning process. It is essential to give your students regular feedback and intervene if necessary to make sure they are on track.
A person with a flexible mindset openly accepts feedback as well as challenges, persists in the face of failure and sees effort as a natural path to success. Feedback received and given with a flexible mindset is a truly effective tool for school systems around the world and can guarantee the performance of the school community.
How Kinderpedia supports active learning and the transition to a modern classroom
Kinderpedia supports active learning by making it easy for teachers to provide students with a variety of interactive and engaging resources that encourage them to take an active role in their own learning. Also, it keeps parents connected and engaged in students' education. It allows schools to gather and analyse data at different levels, with the purpose of improving learning, as well as the overall teaching practice. Kinderpedia supports teachers in providing quick and effective feedback on homework uploaded by students on the platform. In this way, it enhances teacher-student-parent communication and helps children to be constantly involved in their own learning process.
Want to see how it works? Schedule a free demo!