Inquiry learning model: how we stimulate curiosity in young people
---
07 November, 2022
The inquiry learning model requires students not to memorize an endless string of information, but to problem-solve, build and feed their appetite for learning through engaging and interactive activities.
What is inquiry learning and why is this model so important?
Inquiry learning is a process that encourages children to satisfy their curiosity through concrete actions in a safe and open space. It is a process that enhances intellectual engagement and deep understanding, encouraging students to develop their question-forming skills, collaborate with other students, peers or adults, solve problems, generate creative solutions and engage their curious spirit beyond the classroom.
Inquiry learning is a constructivist approach in which the overall goal is for students to create meaning between newly discovered information and prior knowledge they already knew, make connections and understand how the world around them works.
Constructivism is the theory that students contribute to the consolidation of knowledge and not just the passive assimilation of information. As people experience the world and reflect on their experiences, they construct their own representations and incorporate new information into their pre-existing knowledge.

Students learn best when they are engaged in learning experiences and not when they passively receive information. Learning is inherently a social process because it is embedded in a context where students and teachers work together to construct knowledge; students learn from each other, with each other and from those outside the classroom.
The aim of educational institutions, which support inquiry-based learning, is to provide students with the necessary contexts to facilitate their learning.

Inquiry-based learning is distinguished by distinctive elements related to its equal emphasis on process, communication, reflection, collaboration, analysis and content, curriculum elements that are negotiated with students and prior knowledge on which it builds.

Evaluation and planning are important, with meaningful and relevant concepts identified that unify knowledge and understanding. Genuine curiosity and questioning, on the part of teachers and pupils, is essential - the children's 'voice' is evident, with children actively involved in constructing understandings through practical experiences, research, processing and communicating their understandings in a variety of ways. Reflection, metacognition and analysis are valued and assessment is continuous and based on clear criteria linking performance to the curriculum objectives set at the outset. The researchers point out that the inquiry-based model of instruction is based on five elements: engagement, exploration, explanation, elaboration and evaluation. The instructional model involving these five elements brings coherence to different teaching strategies, provides connections between instructional activities, and helps teachers make decisions about future interactions with students.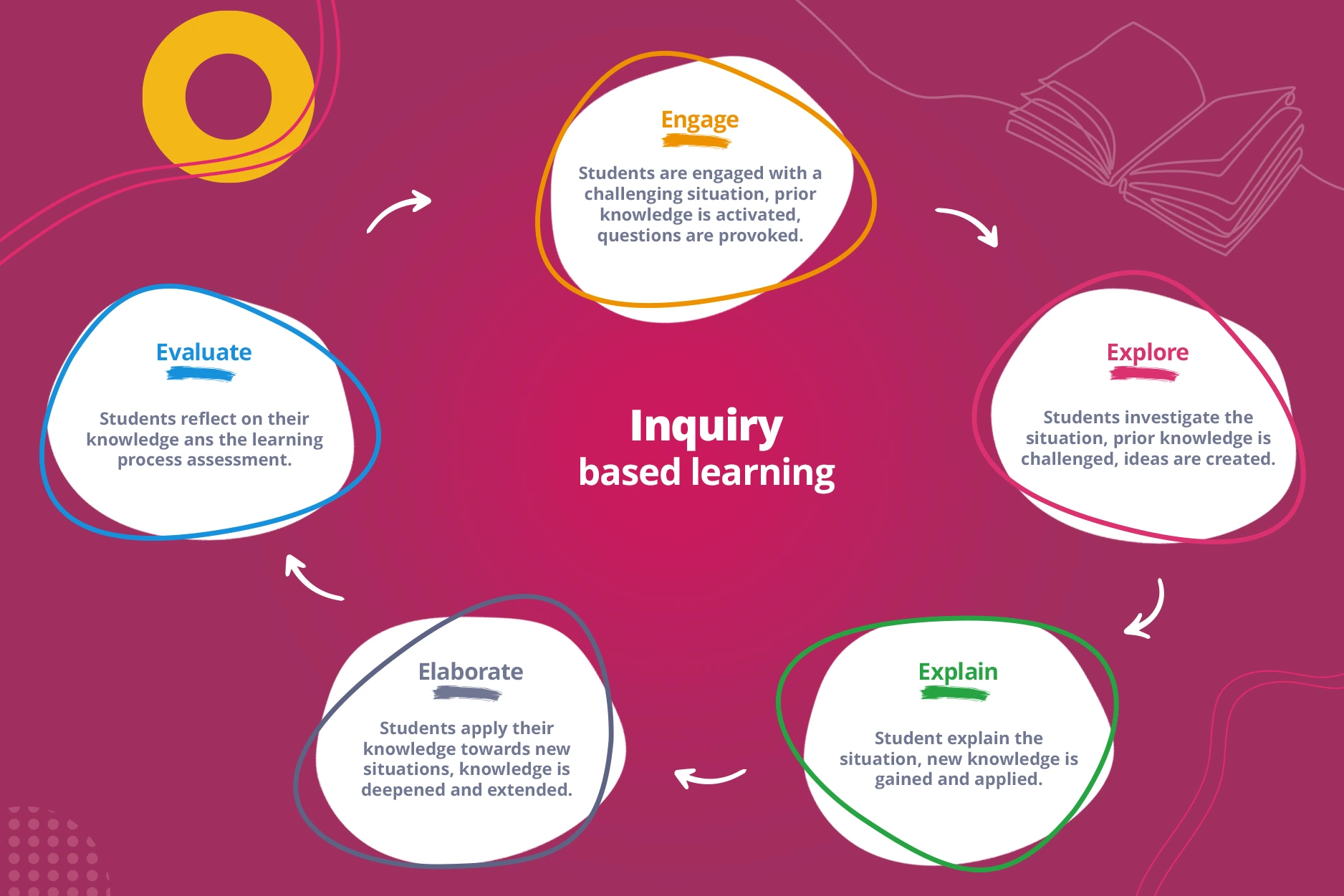 At this stage, the teacher measures the students' prior knowledge and/or identifies possible misconceptions. The process is learner-centered and the facilitator's role is to spark children's curiosity through interesting information, videos, impressive demonstrations and statements, "Did you know..." moments and questions.
Explore
The exploration phase provides students with a common base of practical and interactive activities, games and applications that will help them to use and connect prior knowledge with current knowledge to generate new ideas. This is where the main
experience takes place, a moment that feeds into students' understanding.
Explain
The third stage of the instructional model is more teacher-oriented and guided by the students' experience in the previous stage. The students explain their understanding of the concepts, confirm or refute their previously made assumptions, and the teacher corrects the students' misconceptions. During this time, the teacher can provide definitions, examples and explanations.
Elaborate
In the elaboration phase, students are encouraged to apply their new understanding of the concepts while reinforcing new skills. Children can now carry out further investigations, develop new hypotheses, share information and ideas or apply their knowledge and skills to other subjects, thus broadening their knowledge. This stage of the learning cycle presents opportunities for the teacher to integrate their area of knowledge with other areas.
Evaluate
The assessment phase encourages students to measure their understanding and skills and gives teachers opportunities to score students' progress towards educational goals.

Educational actors have researched and searched for the best ways to ensure that children's learning is interactive and encourages their curiosity. Experts point to a number of methods suitable for spaces with a focus on discovery learning that help youngsters perform impressively in the classroom, but also beyond educational institutions.
4 strategies for creating an inquiry-based classroom
1. Pupils learn through games
Let's imagine we are at a professional development workshop and the facilitator hands us several materials for the next activity and before we have a chance to explore them a bit, we hear the phrase: "OK, what questions do you have?".

Aside from "What are all these materials?", it's hard to come up with deep and meaningful questions about the materials or the project that we haven't yet had time to explore. If once we receive the materials we also have a moment to examine them more closely, to touch them, to make sense of the relationship between them, we will probably be able to make deeper and more thoughtful observations and take our understanding of the work to the next level.
It is essential to know that this is exactly how the little ones act. If we introduce a new activity to students - we can't expect them to ask meaningful questions if they don't have time to explore and
play
first.
This exploration will pay off, children will be more engaged and eager to ask questions and actively listen to directions.
2. Learning happens all the time, not just in a limited time in the classroom
Learning takes time, and the discovery experiences that contribute to building children's knowledge cannot be done in a few minutes. In the classroom, learning begins, but we need to take learning beyond the classroom.
We set clear goals and milestones to achieve them. We provide space to explore children's interests and use their questions as springboards for exploration.


We can start with a topic and develop it into a project for a whole week. For example: a lesson about apples can turn into a week of interesting and scientific activities where children first discover apples on the outside, colours, different types, on the inside, cut and observe them, compare them with other fruits and vegetables, measure their size and weight and then generate questions with a whiff of curiosity.
What happens to an apple if it stays outside, it decays? In how long? How does the apple turn into apple pie? Where do the different types of apple come from? As teachers or tutors we can support children in finding answers using books or technology and, most importantly, show them that their questions can lead to experiments, exploration and new knowledge!
3. Why is it important to feed curiosity with more questions?
Children build their knowledge through the questions they ask, and an incredible way to support them in this is if we can encourage them to seek answers for themselves, to look at the situation from other perspectives, and provide the context for richer, deeper and more interesting discussions. It is essential to suggest valuable resources for children to gather information from: books, movies, videos and specialists.

The main element in ensuring that we increase knowledge through questions is to create a safe classroom space where questions are welcome. However, it is important to have a question action plan or system in the classroom for how questions are addressed and to ensure that we can filter children's curiosities through a filter.
In a classroom focused on discovery learning, questions drive learning and students drive questions.
4. The wall of questions
A question wall is a great space to store children's questions. This space can also be useful as a filtering system for topics of interest.
We need to build a consistent system that works for us and our class and make it a regular part of the routine so that questions are a means of learning and not a distraction from learning.
What would happen if students were directly involved in the training process?
Learners can improve certain transferable skills through discovery-based learning, many of which are related to initiative and self-direction. This is evident when examining the stages of the learning process. Learners learn how to ask questions, investigate, discuss, collaborate, cooperate and reach their own conclusions. Although they can develop these skills separately through other activities, discovery learning and self-directed analysis synthesise this development. These skills will not only prove useful in terms of academic achievement, but will be used beyond that.
A very important outcome of discovery learning is the establishment of a growth mindset. Students tend to see more value in what they learn, retention is higher because they take responsibility, and classroom discussions are improved due to the increased development of critical thinking.
Inquiry learning helps students develop a greater sense of responsibility because they are directly involved in the learning process. Our role as educators, mentors, parents, is to introduce them to ideas and opportunities and allow children to go beyond them. This empowerment is vital to their self-esteem and confidence. Accountability, adaptability and learning agility are key components of discovery learning and are the foundation for a generation of empowered, curious and eager young people.
How Kinderpedia supports active learning and the transition to a modern classroom
Kinderpedia supports active learning
by making it easy for teachers to provide students with a variety of interactive and engaging resources that encourage them to take an active role in their own learning. Also, it keeps parents connected and engaged in students' education. It allows schools to gather and analyse data at different levels, with the purpose of improving learning, as well as the overall teaching practice.
Find What You're Looking For
---
Kinderpedia
The complete communication and management solution for schools and childcare centres.
Simplifies teachers' work and brings parents closer to their children's school progress.
Recommended articles
---
Want to improve your center quality? Kinderpedia is here to help! Not only do we provide thousands of informational content pieces like blog posts, podcasts, webinars and more, we are also makers of the #1 Rated and Reviewed Childcare Software.