In addition to the growth of cognitive abilities and physical health, it's equally important for children to nurture their emotional intelligence across multiple contexts, activities, and situations.
Social-emotional learning is a vital element in children's development, facilitating understanding of emotions and ensuring thriving relationships with others.


This current concept, used, developed, and explained in the literature, focuses on children's skills to recognise their own emotions, feelings, and emotions, to identify them in others around them, to show empathy and understanding, and to act in a balanced way in the face of challenges and obstacles.
Harmonious development on all levels is vital for children. Every parent wants their little ones to do well at school, build healthy friendships, stay involved in different activities, play, and enjoy themselves. For all of this, children need to be supported in forming healthy habits and routines, learning how to appeal to a growth mindset, staying curious and understanding what it is, how it works and why social-emotional learning is important in our lives.
Social-emotional skills help children to manage everyday life successfully, concentrate, make good decisions, and become supportive members of their school and personal communities.


James Comer, a child development specialist at Yale University School of Medicine, developed the concept of social-emotional learning in 1968; and today, as teachers, schools, and parents take responsibility for teaching young children how to pass exams and coursework and become well-rounded human beings with the skills and attributes needed to succeed in life, the concept of social-emotional learning is taking shape and expanding.


Social-emotional learning, is a framework through which students acquire the skills needed to navigate through school, into working life and beyond.
What is social-emotional learning?
Experts define social-emotional learning as the process of developing self-awareness, self-control, and interpersonal skills that are vital for success in school, at work, and in life.


Five key components of social-emotional learning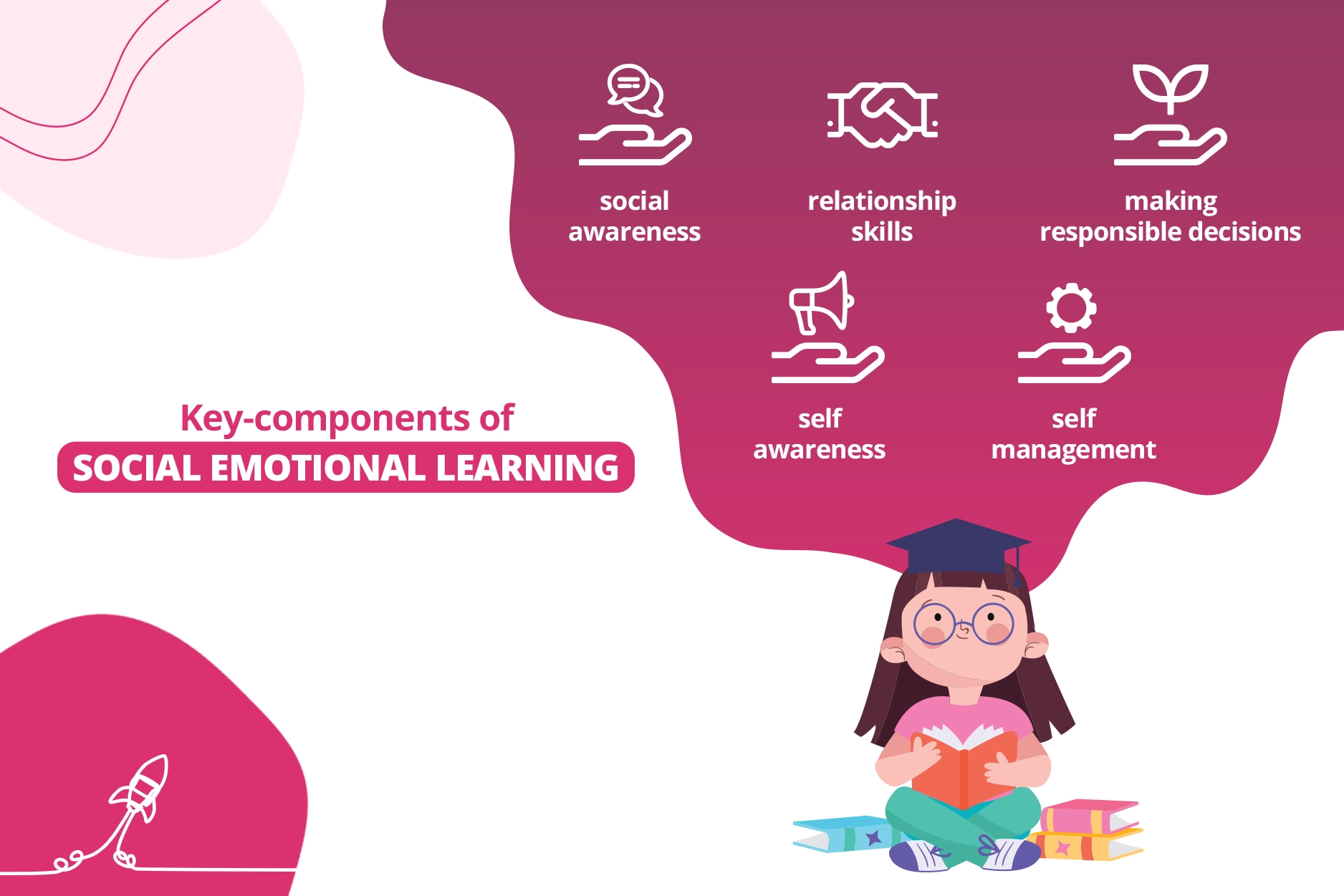 -
According to the Collaborative for Academic, Social, and Emotional Learning (CASEL), an organization dedicated to helping students and educators achieve positive outcomes for early learners, the social-emotional sphere encompasses self-awareness, self-management, social awareness, interpersonal skills, and responsible decision-making.
1. Self-awareness
It is essential for every child to be able to recognise their emotions and how they influence their behaviour; to know their strengths and weaknesses in order to gain confidence in their abilities. In relation to all this, children can design goals and devise appropriate strategies to achieve those goals.


David LaViscount, principal of Audubon Charter School-Gentilly in New Orleans, points out that when emotions may be too strong and young children can't identify on their own what the source is, the role of parents, teachers or other responsible adults in children's lives is to guide them, through questions, to help them come to some conclusions. Questions such as "When did this feeling start? What happened just before?" are essential; even if they can't answer at the time, as they grow and mature, guiding them in this way can focus on self-reflective behaviors.


2. Self-management
Self-management involves taking control of one's own thoughts, emotions and actions in certain situations, and devising new strategies for the future. A child with strong self-control is able to cope with stressors and will understand that possible failure is part of the learning process. Until young children have the exercise to self-manage themselves, they need support and space to make mistakes, grow, learn.


3. Social awareness
This element of social-emotional learning involves the ability to put yourself in the shoes of another person who may come from a different background or culture than the one you grew up in. The ability to feel, look and act with empathy at home, at school, and in the wider community.


4. Relationship skills
Ability to build and maintain healthy relationships with people from diverse backgrounds. This skill involves active listening and the ability to communicate effectively with others, conflict resolution and knowing when to ask for or offer help. These help the child to communicate, listen and collaborate. In order for young children to learn healthy relationship patterns, it is important that they can observe them in their parents, relatives, and teachers and discuss them with them.


5. Making responsible decisions
In order to learn to make the best decisions, young children need to be able to think ahead, to understand that they need to weigh their own needs as well as the needs of others. To encourage this skill, children need role models of best practices and supportive conversations.


The outcomes of social-emotional learning are significant. According to the American Journal of Public Health, schools that use activities to train the five elements mentioned above report an improvement in children's academic performance, a reduction in bullying and dropout rates, and a positive influence on children's personalities.


The direct benefits of social-emotional learning
For both children and adults, increased self-awareness, significantly improved academic and professional performance, and positive behaviours exhibited both inside and outside educational institutions or the workplace are the immediate benefits of high social-emotional intelligence.


A mature level of emotional intelligence helps students cope better with stress, solve problems more easily and show
empathy
towards others. Students who are equipped to deal with issues that affect them on a personal level are then better able to manage obstacles.
Learning positive behaviours from an early age beyond a purely academic level of achievement can help children develop the soft skills needed for many jobs of the future, such as teamwork skills, the ability to understand others, and problem-solving. This can help prepare children for success throughout their school years and beyond.
How does social-emotional learning happen?
There are many ways to incorporate social-emotional-focused activities in the classroom or at home. Experts point out that one of the most effective strategies for integrating social-emotional learning is for activities to be threaded throughout the day, from well-structured activities to activities that just involve open-ended conversations with young children.

1. Journal for self-discovery
At regular intervals (e.g. once a week), children can write down or draw in a journal the things that brought them joy that week (
board game
night, going to the park,
cartoon
night, etc.). This exercise will help young children practice self-awareness (understanding what they like) and self-control (understanding how they react to things they like).
2. Owning a pet
👉 Read the benefits of owning a pet here.
Owning a pet will help children develop empathy and responsibility. When young children learn to care for a pet and engage in playful activities with it, they indirectly develop their social-emotional skills.


3. Empathy games
This can be a role-play, verbal, or can be played with cards. The aim of this activity is to present children with a set of situations and observe their responses. For example, on one of the cards it can be written: "A child fell down in the park and all the other children started laughing at him. What do you think about this situation? What would you have done if you had seen that child? What would you have done if you were the child who fell?". Regardless of the children's response, this is a valuable activity that demonstrates how parents or teachers can increase children's empathy and guide them towards understanding certain life situations.


4. Emotions on the drawing board
What does it look like to be happy or sad? But surprised or worried? This activity gives children the opportunity to express common emotions through drawings or paintings. In creating pictures, they will reflect on their own - and other people's - thoughts and feelings. The child can also associate feelings with different colours (for example, yellow used to signal joy).

5. Daily dose of kindness
Throughout the day, parents can encourage young children to look for ways to help others. Perhaps it's holding open the door for a neighbor who has their hands full, complimenting a friend's new shirt, saying "thank you" and "please" or inviting someone new over to play. Through this social-emotional learning activity, they will develop social awareness and relationship skills.


Why is social-emotional learning a core competence of the future?
Social-emotional learning is a core competence of the future, awareness of one's own social and emotional needs and reactions and managing them will become very important in dynamic environments.


At the level of educational institutions, strategies on emotional intelligence for children and also for teachers can usually take the form of policies, practices, or structures related to climate and support services for students and teachers. School leaders can organize various activities to shape positive relationships and a sense of community among students and teachers through structures such as regularly scheduled morning meetings or counselors who provide opportunities for students and teachers to connect with each other.
👉
See here 5 ways in which teachers can support students' emotional development.


Family and community partnerships can strengthen the impact of school approaches to extend learning at home and in other contexts. Community members and organisations can support efforts in the classroom and school, especially by providing additional opportunities for students to hone and apply various social-emotional skills.


Social-emotional learning can be seen as the process of teaching the most important skills and abilities that children will need for their educational journey and later working life.