Richard Louv coined the phrase "nature deficit disorder" in his 2005 book, Last Child in the Woods.
Scientific studies in recent years have begun to talk about Nature-Deficit Disorder. This implies that human beings, especially children, are spending less time outdoors than in the past, and there is a belief that this change is resulting in a wide range of behavioural problems.


He argues that all of us, especially children, spend more time indoors, which makes us feel alienated from nature and perhaps more vulnerable to negative moods or even to reduced attention span and focus in various activities.


The
No Child Left Inside Coalition
works to encourage children to spend as much time in nature as possible and get them actively learning. It aims to address nature deficit disorder through actions such as the
No Child Left Inside Act
, which would increase environmental education in schools. The coalition argues that the problem of nature deficit disorder could be helped by "igniting students' interest in outdoor activities" and encouraging them to explore the natural world through everyday activities.
Connecting children with nature: activities at home and at school
Connecting children with nature
is an investment in their health, wellbeing, creativity and interpersonal skills. Studies show that families who spend a lot of time in nature together nurture not only their bodies, but also their communication relationships within the family.
In 1980, a Harvard biologist named Edward O. Wilson came up with a theory, biophilia, which says that people are instinctively drawn to the natural environment. And so it is, we all feel more relaxed and more present after just a few minutes spent in nature.
THE BENEFITS OF CONNECTING WITH NATURE
The Child Mind Institute presents a number of benefits in terms of connecting children with nature. Recent studies have revealed the benefits - and even the necessity - of spending time outdoors for both children and adults.


Some argue that it can be any outdoor environment. Some argue it has to be a "green" environment - one with trees and leaves. Others have pointed out that just a picture of greenery can be beneficial for mental health.


Those nuances aside, most studies agree that those children who play outside are smarter, happier, more alert and less anxious than those who spend more time indoors. While it's not clear how exactly the improvements in cognitive functioning and mood occur, there are a few things we do know about why nature is beneficial for children's development.


Builds self-confidence
The way children play in nature has much less structure than most types of indoor play. There are endless ways to interact with outdoor environments, from the backyard, to the park, to the local hiking trail or the local lake, and letting your child choose how they treat nature means they have the power to control their own actions.


Promotes creativity and imagination
This unstructured style of play also allows children to interact meaningfully with their environment. They can think more freely, design their own activities and approach the world in inventive ways. They can build different things out of leaves, stones or twigs. They can see different shapes in the sky just by lying on the grass and looking up at the clouds.
Increases responsibility
Living things die if they are mistreated or not cared for properly, and entrusting a child to care for the living parts of their environment means they will learn what happens when they forget to water a plant or pull a flower from its roots.


Provides different stimulation
Nature may seem less stimulating than your son's violent video game, but it actually activates more senses - you can see, hear, smell and touch outdoor environments. As young people spend less and less of their lives in the natural environment, their senses are narrowing, and this reduces the richness of human experience. While walking through the park or forest, for a more powerful experience, you can try the Vittoz method, a method that trains all the senses to be more present in the activities you do.


Nature gets us moving
Most ways of interacting with nature involve more movement than just sitting on the couch. Your child doesn't have to join the local football team or ride a bike through the park - even a walk will get their blood moving. Not only is exercise good for children's bodies, it seems to make them more focused, which is especially beneficial for kids with ADHD.


Encourages critical thinking
Louv says nature creates a unique sense of wonder for children that no other environment can provide. Naturally occurring phenomena in backyards and parks every day make children question the earth and the life it supports.
Reduces stress and fatigue
According to attention restoration theory, urban environments require what's called directed attention, which forces us to ignore distractions and exhausts our brains. In natural environments, we practice a type of effortless attention, known as light fascination, which creates feelings of pleasure, not fatigue.
"The natural environment seems to encourage and facilitate parent-child bonding and authentic interactions" (Martha Farrell, "Family together in nature - shared nature experience as a pathway to strong bonds")
CONNECT WITH NATURE AT SCHOOL
Following research in this area, we offer simple suggestions for teachers to integrate outdoor activities into the curriculum for the new school year:


Designate a "wilderness" area in the schoolyard for children to explore. Let grass grow and birds nest, and keep sticks and twigs within reach of pupils. Encourage students to climb, discover and play in the area.
Create an outdoor classroom where groups can meet to read, write, draw or learn about the environment.
Let students have lunch and physical education outside, weather permitting.
Encourage partnerships between schools and local parks. Visit parks for outdoor lessons and free play. These partnerships can be especially important for low-income, urban students who may have fewer opportunities to visit green spaces on their own.
Take students out for a walk during the day to make observations about the environment, practice awareness, or complete a teamwork activity.
Plan a field trip where students can experience nature without technology. Single-day adventures can be great fun with long-lasting benefits.
Model the kind of engagement you want your students to have with nature. Explore new developments on the playground, play with fallen leaves, and vocally express what you observe and love about outdoor activities.
Plan camps and field trips to the woods, the sea or even farms to bring students closer to what they learn every day in science class.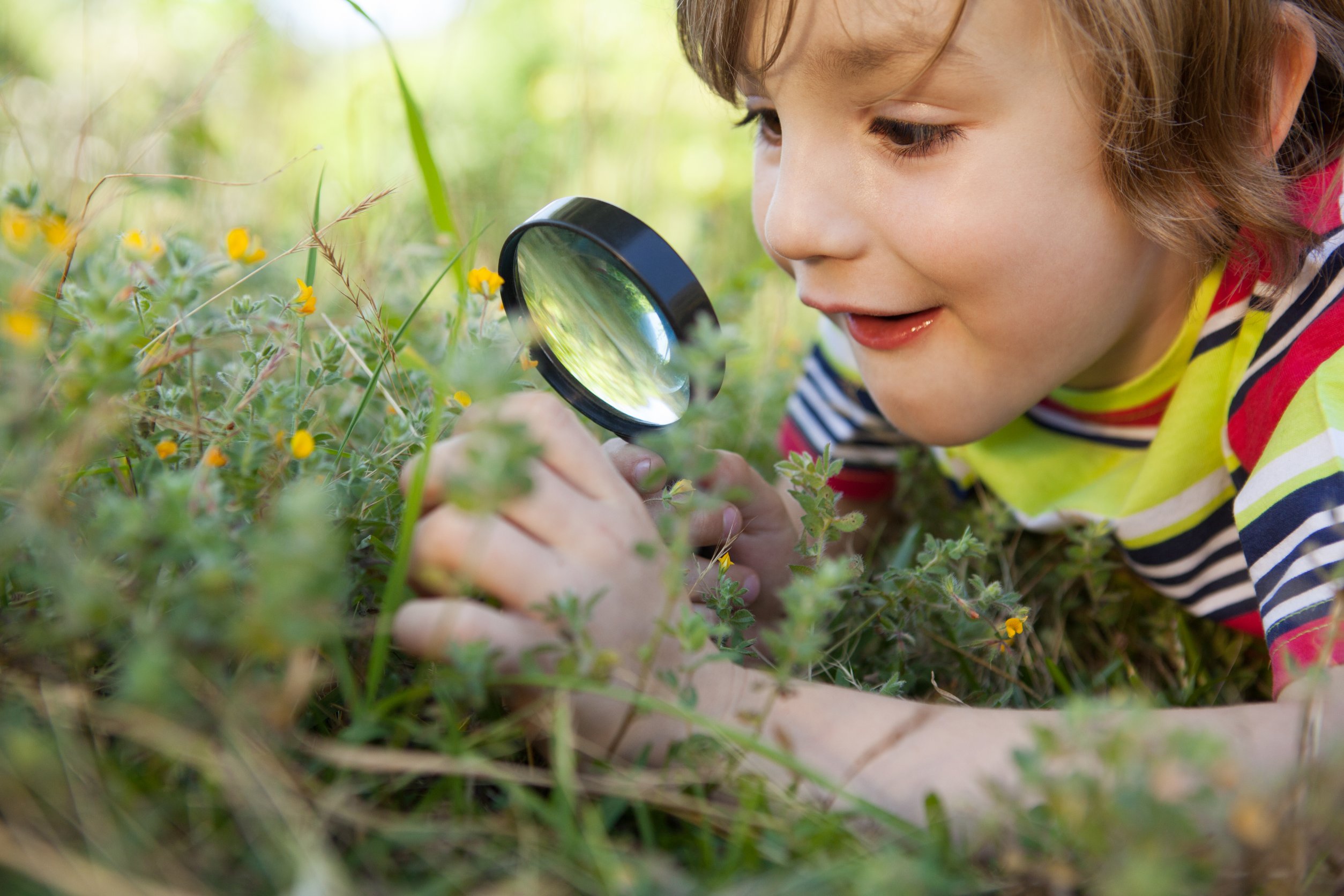 CONNECT WITH NATURE AT HOME
Organise treasure hunts. Make a short, simple list of things for children to look for outside - such as 'a shiny object' or 'something you can keep liquid in'. The satisfaction of finding the items turns it into a discovery activity and will keep them out looking for the next item on the list.

Find things. Take a book - with pictures - about birds, insects, leaves, trees or flowers in the local area and go outside looking for specific creatures in the book to identify. Matching leaves with pictures and names has a sort of treasure-hunting reinforcing appeal. The same goes for bird calls.

Give children the tools they need to discover. Gifts like a bug box, magnifying glass or shovel will promote ways to explore the outdoors with a fun new tool that feels professional and responsible.

Go to an outdoor show. Parks in almost every town have children's shows, many of them free. If your child can't take his eyes off the cartoon channels or even the phone screen, take him to a puppet show in the park. For older kids who like movies, take them to outdoor plays.

Start a collection. You can find small parts of nature, such as rocks or shells, almost everywhere, and starting a collection adds to the appeal, giving your child the motivation to search and therefore spend time outdoors. e. In the same spirit, you can create a diary with different pressed leaves and plants.

Use technology to your advantage. If your kid is addicted to all electronic devices, have him bring a camera or phone with him and create video or photo journals of various nature trips. He'll still be around a tech device, but he'll use it to focus on the world around him.

Go fruit or vegetable picking. Coming home with a basket of food he picked himself is both rewarding and might make him appreciate the food and the place it came from more. If you're in town, visit farmers' farms and orchards around your locality.

Create your own garden. Tracking progress and seeing the end product of a seed your child has planted provides a different and deeper sense of accomplishment than beating a difficult level in a video game. If you live in a block, you can make a mini garden right on your balcony.

Take a hike. Hiking a trail to a waterfall or a breathtaking view also gives kids a sense of accomplishment, rewarding them for their physical efforts while hiking. The same goes for bike rides. Don't forget to bring snacks and take short breaks to keep their energy up!

Do art projects. For kids who prefer to stay inside with some arts and crafts, have them use objects from nature for their art. Picking flowers to press onto paper, using berry juice as paint, or collecting pine cones and rocks to decorate are ways to infuse nature into activities they already enjoy.

Build. You can also reverse the process and create art objects with children that will support and nurture the natural world - things like birdhouses or flower boxes. Children will keep coming back to see how an object they have created provides shelter for other living things.

Watch documentaries. If the weather is rainy and you can't plan a nature trip, a documentary about animals, plants or different places to visit can capture your child's attention, stimulate and motivate them to be more excited about their next nature outing. Whatever their age, watch documentaries with them. He's sure to need explanations and a great companion.


What's good for kids is good for parents. Don't be afraid to participate in all these activities. Nothing beats trying to cross a creek by stepping from rock to rock (even if a sneaker gets wet or a knee bruises) or climbing a tree taller than you knew your child could climb. Providing some level of challenge allows children to learn and develop new skills.