Change management in schools and kindergartens: Two models
---
16 August, 2023
Although change is an inevitable part of our lives, both professionally and personally, just hearing the word "change" can make one feel shivers down their spine. We perceive change as uncomfortable and we prefer to be avoid it if there's an alternative. And yet, it is change that fuels progress.
Change management, in general, and change management in schools and kindergartens in this particular case, analyzes the process that institutions undergo from identifying the factors that trigger the need for change, to implementing the transformational element and then to evaluating the results.
Change management strategies in education
When it involves the adopting new policies, processes or technologies, change in education can imply greater management challenges.
Hence the need for approaches and tools that make transitions smoother, bring more comfort to the team when adopting or integrating novelty – be it a habit, a digital tool, a process, or an entire system.
Who is responsible for change management in education?
If we look at schools as smaller organizations, they need periodical strategic changes in the way they are organized and function, as well as in the school curriculum. The gains justify any possible friction: thought through and well implemented, changes help students improve their results, educators and teachers be more motivated and satisfied in their work, and the institution as a whole perform better.
Educational leadership research analyzes change management in terms of managerial style and courses of action. We identify leaders in education with people who hold or represent authority and have decision-making power. Leaders are often the ones who implement changes and drive essential transformations to achieve certain goals based on a clear vision and strategy. Education managers, on the other hand, focus more on efficicently maintaining the existing order, pursuing certain KPIs and delegating tasks. A school manager is not always a leader, but a leader can be a school manager. The two roles meet halfway, up to a certain extent.
Two change management models to use in schools and kindergartens
Organization leaders and school and kindergarten leaders respectively make use of different change management approaches suggested by researchers. They intend to foster the mindset required for the successful implementation of the change process. Out of all the available approaches, we'll narrow it down to two, with a focus on the individual and their needs: the Change Curve and the ADKAR model.
The Change Curve model
The Change Curve is a well-known model and implemented by many organizations worldwide, although it was developed for personal purposes. The model, as designed by Dr. Elisabeth Kubler-Ross in the 1960s, aimed to help people cope with grief. It has since been adapted for change management purposes in a variety of contexts because, at its core, bereavement involves adapting to a major change.
The original Kubler-Ross model includes five stages: denial, anger, bargaining, depression, acceptance. A sixth stage was added in 2019 - hope or the search for meaning. Applied in management, the change curve expands to seven stages: shock, denial, frustration, depression, exploration, decision, integration.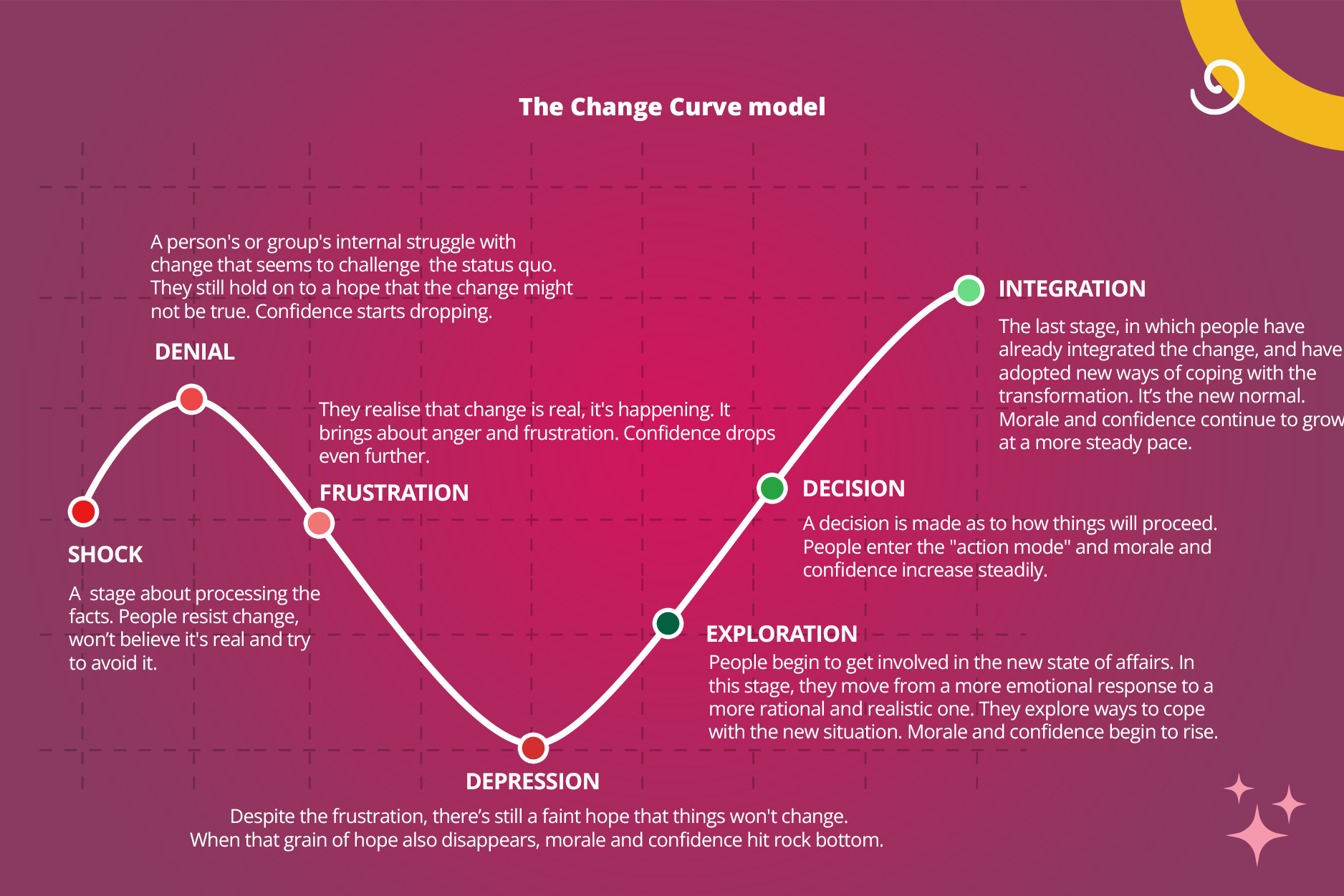 As a school or kindergarten leader, but also as a teacher or educator, the change curve can be a very useful guide. Being aware of these natural stages can help you anticipate and address the emotional and psychological challenges that often arise during times of change – and which are, in fact, the main barriers.
As a leader, by recognizing the stage that the team is at along this curve, you can adapt your communication and support strategies to meet the needs of team members. Thus, the chances to succeed faster in implementing the change also increase.
How can you integrate the AKDAR model in your school or kindergarten?
1. Communicate early and often
Communicate the motivation for the change, the expected benefits, and the implementation timeline as early and as often as possible. You should also be prepared to listen to feedback and concerns from staff and parents, and respond to them in a timely and respectful manner.
2. Collaborate closely
A successful change needs, first of all, acceptance and support from as many stakeholders as possible. As a school or preschool leader you should build a support group that includes teachers, parents, students and community members. This group can provide the impetus others need to adopt change. Furthermore, it can provide a sense of belonging and shared responsibility.
3. Ensure professional development
Change often requires new skills, knowledge and attitudes. So, as a school or kindergarten principal, provide professional development opportunities to help staff develop their ability to successfully implement change. Professional development can take many forms, including workshops, coaching, mentoring and online learning.
4. Celebrate success
Celebrating small successes along the way, though effective in boosting motivation, is often ignored. The tendency is to celebrate only the final success, but practice has demonstrated the effectiveness of recognizing and validating the efforts and achievements of all stages along the change curve. Celebration can take many forms, including public recognition, awards and bonuses.
5. Monitor progress
Like any continuous process, change also requires monitoring and evaluation. You should establish clear succes benchmarks in the change process, then regularly track progress against those indicators (qualitative or quantitative). This helps you identify areas that need more focus and allows for corrections along the way.
The ADKAR model
Another useful change management approach for schools and kindergartens is the ADKAR model. Developed by Prosci, a leading provider of change management solutions, the ADKAR model offers the right framework to manage change at an individual level. The name is an acronym for Awareness, Desire, Knowledge, Ability and Reinforcement.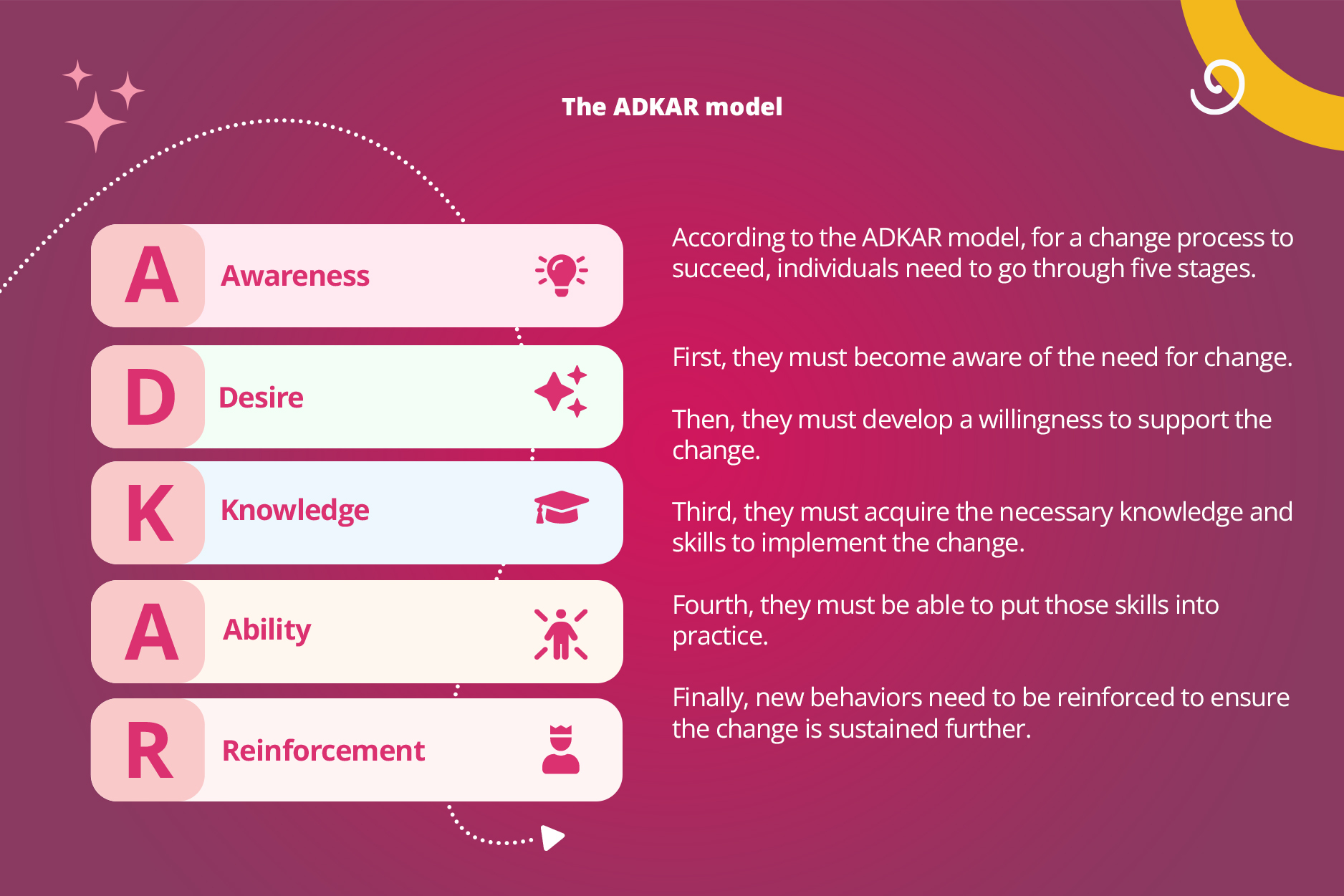 The ADKAR model is particularly useful for schools and kindergartens because it emphasizes precisely the importance of individual involvement and ownership in the change process, in an environment where individual contribution has a major and immediate impact.
As a school or preschool principal, when you focus on the individual needs and motivations of staff and students, you can better tailor your change management strategies to maximize support and buy-in.
To apply the ADKAR model in schools and kindergartens as a leader, you can take the following steps:
1. Assess the readiness of those involved, before implementing any change. Do this through surveys, focus groups or other forms of feedback. By understanding the current level of awareness, willingness, knowledge or skills, school leaders can adapt their change management strategies to address any gaps or obstacles.
2. Facilitate awareness of the need for change: In order for the team and students to become more aware of the need for the transformation they will go through, you can use concrete examples to show why change is needed and, above all, what the risks are if the change does not takes place or is not well implemented. The key is to be clear and consistent in communicating the reasons and benefits of the change.
3. Create desire: To create desire to support change, as a principal you can involve staff and students in the change process. It can mean involving them in planning and decision-making, giving them opportunities for feedback, and recognizing and rewarding the early adopters of first to adopt new tools, processes or policies. To increase motivation, provide as many examples of success stories as possible.
4. Develop knowledge and skills: Implementing change requires new knowledge and skills. But first, one needs to know the very stages of change process. In order to adopt new knowledge and behaviors, educators, teachers, children, and even parents need to understand the stages of change, their own reactions, and the process that helps them move forward. So, as a leader, you should communicate thoroughly the entire process of change, the stages it entails. It also provides your team with relevant and professional development opportunities to support the specific needs of staff and students.
5. Consolidate the change: Finally, there is a need to reinforce the newly acquired behaviors and skills, to ensure continuity. So you can encourage the seniors in the team to set an example at maintaining the change. Establish systems to measure progress and success through indicators and metrics to refer to periodically. Celebrating success is also a key factor that ensures new habits are maintained.
The ADKAR model makes it easier to effectively implement changes at an individual level. When you engage staff and students in the process of change and provide the support and resources they need to succeed, inertia also decreases and positive results are quick to emerge.
The two models of change management in schools and kindergartens discussed here share a focus on the natural and necessary stages we all go through in a process of change. They are only about ways of implementing change. But you can also find models that track the goals or tasks in the change process.
When talking about the tools used in educational leadership, one should at least mention leadership styles. On Kinderpedia, we covered this topic extensively in a whitepaper dedicated to teachers, educators, and leaders of educational institutions who feel they need a set of tools to set up a certain direction and build a trustful team.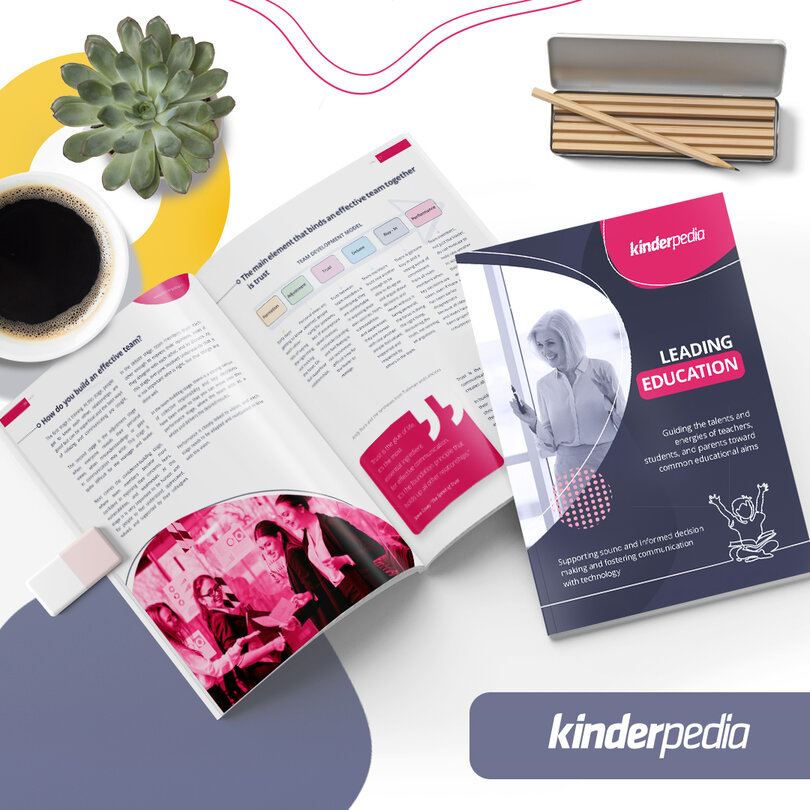 Leadership for Education serves as an introduction to a number of key educational leadership strategies.
It is designed for teachers, educators and school leaders who feel they need a toolkit to create a vision and build a trusted team.


Find What You're Looking For
---
Kinderpedia
The complete communication and management solution for schools and childcare centres.
Simplifies teachers' work and brings parents closer to their children's school progress.
Recommended articles
---
Want to improve your center quality? Kinderpedia is here to help! Not only do we provide thousands of informational content pieces like blog posts, podcasts, webinars and more, we are also makers of the #1 Rated and Reviewed Childcare Software.