10 anti-bullying activities and practices to foster an anti-bullying culture in school
---
31 October, 2023
Schools should be a place where kids feel they belong, and parents want to be assured of that too. According to a study by Save the Children Romania, 1 in 4 kids experience bullying during school breaks. The numbers are even more impactful if we look at the ways in which children are physically or verbally abused in school by their own peers.
Bullying isn't just a term seen in the media; it's a real issue that affects many kids. It becomes a harsh reality when you're a victim or witness it firsthand.
"A person is bullied when he or she is exposed, repeatedly and over time, to negative actions on the part of one or more other persons, and he or she has difficulty defending himself or herself," says Dan Olweus, a pioneer in the study of bullying phenomenon. "It is a negative action when someone intentionally inflicts, or attempts to inflict, injury or discomfort upon another, through physical contact, words or otherwise."
Because bullying has been in the spotlight lately, it's become more noticeable, happening more often, and taking on different forms. That's why there's a need for a more focused and well-coordinated approach. Starting at a younger age, it should involve different age groups and come from various sources like schools, families, and authorities to effectively tackle this issue.
Where to start: Anti-bullying activities in your school
Once a year, anti-bullying week comes along, and school directors or teachers find themselves asking "What can we do for anti-bullying week?"
Firstly, bullying is not a problem only in schools. It happens in lots of places—like at work, within families, and out in the community. A holistic perspective on the phenomenon helps shape a lasting strategy because it involves analysing the environment in which the aggression occurs. Therefore, actions to prevent bullying are a continuous effort, and involve not just the school, but also the family, the community of which they are a part, or the local public authorities.
Then, Gretchen Brion-Meisels, a researcher in the field of youth development, mentions that preventing bullying also starts with how we choose to name various types of aggressive behaviour in school. The measures taken will derive from this.
What bullying in the classroom looks like?
If a group of students are teasing an overweight, female peer who is walking down the hall wearing shorts. One might call this "sexual harassment," because the students are talking about their peer's body (particularly true if the students were male), Brion-Meisels points out. Another educator might call it "bullying" because the group is more powerful than the individual and is using its power to tease her about her weight. If the young woman felt uncomfortable enough, someone else might call the behaviour just harassment.
The study conducted by Save the Children Romania in 2016 regarding bullying in schools showed the following bullying situations:
Exclusion from the group:
31% of children stated that they were frequently excluded from group activities
2 out of 10 children reported repeated direct exclusion behaviours from other students.
Humiliation:
24% of children reported being constantly humiliated in front of other children
37% were victims of negative rumours spread in the school community.
Physical bullying:
13% of children had their personal belongings destroyed by others
30% were repeatedly hit by other students at school.
78% of all students reported witnessing at least one bullying situation in their school.
Cyber​​bullying:
68% of children confirmed that cyberbullying takes place on social media.
Anti-bullying activities and practices to apply in school and in the classroom
Prof. Dr. Dan Olweus created the Bullying Prevention Program whose main objectives are: reducing existing bullying behaviours among students, preventing new bullying behaviours and achieving better relationships in the school. These are achieved by restructuring the child's social environment at school and building a sense of community among students and adults (Olweus et al., 2007). In this sense, we'll take a look below at anti-bullying activities recommended to schools, parents, and authorities alike.
Set up a clear policy at school. Acting fast and being consistent when handling bullying reports helps set the tone for a positive school environment. This policy not only aids teachers in managing bullying incidents but also ensures solid support for the victims, involving everyone in the process.
Get both kids and teachers involved in creating specific behaviour rules tailored to your school's needs. Communicating these rules to everyone, including families, is key to ensure they're well understood and followed.
Create a safe and inclusive environment in and out of the classroom where all children feel respected and valued. Studies show that bullying situations are less likely to occur when they do not find the proper environment for that. Families and the entire community play a crucial role in discouraging and promptly addressing any aggressive behaviour.
Provide teachers with training courses, conferences, or continuous education programs on the topic of the child's well-being in the school.
Make sure the community understands what happens to bullies. Create space for dialogue between children so that they can express their fears or anxieties that prevent them from acting when they are victims or witness bullying. Help them take a proactive approach to conflict resolution.
Encourage students to speak out if they see or experience bullying and show them how to report it. Give them real-life examples, show how to react effectively, and teach conflict resolution methods. Role-playing or debates in class can really boost their skills in handling these situations.
Teach students about empathy, kindness, gratitude, and respect. Encourage positive interactions among classmates and use real stories to show how important it is to understand different perspectives.
Among anti-bullying activities in school, role-playing games are very handy. They teach children to resolve conflicts peacefully, practice using nonviolent communication and problem-solving skills.
Organize activities to celebrate cultural differences to encourage children to share their traditions and learn about the differences between people. This helps promote mutual respect and understanding between students.
Pay attention to students who might be more prone to bullying, like new kids or those with special needs. Help them settle in by including them in group activities, and set up chances for kids to chat and connect with each other.
Support students who've been bullied and those who bully, too. A study published in the Journal of Adolescent Health (Nansel et al., 2001) revealed that being bullied is linked to increased risks of depression, anxiety, and even suicide in teenagers. Also, kids who bully might turn to crime as adults. So, having school counseling is crucial to help both sides.
Foster an open communication relationship with the child and handle problematic situations calmly, avoiding blaming, or shaming the child.
These anti-bullying activities and suggestions are crucial for all schools, especially elementary ones. If you establish clear rules and anti-bullying activities early in elementary school, kids are more likely to handle bullying or cyberbullying situations as they grow. Plus, in the long run, it doesn't just stop bullying in class; it shapes an anti-bullying culture and encourages positive behaviours recommended by psychologists.
5 ways technology can help prevent bullying in school
Numerous issues at school—be it academic, social, or emotional—can be solved through a strong relationship and effective teamwork between the school and families. This partnership opens doors for children to grow and fosters vibrant and healthy school communities. Kinderpedia, our school management and communication platform, was built on this idea: to nurture collaboration between school and family, placing student-teacher-parent teamwork at the heart of learning.
On Kinderpedia, parents get real-time updates on their children's day, including attendance, mood, participation, and even younger kids' eating and sleeping patterns. With a better understanding of the learning process and awareness of their children's projects and progress, parents can continue and support education at home wherever needed.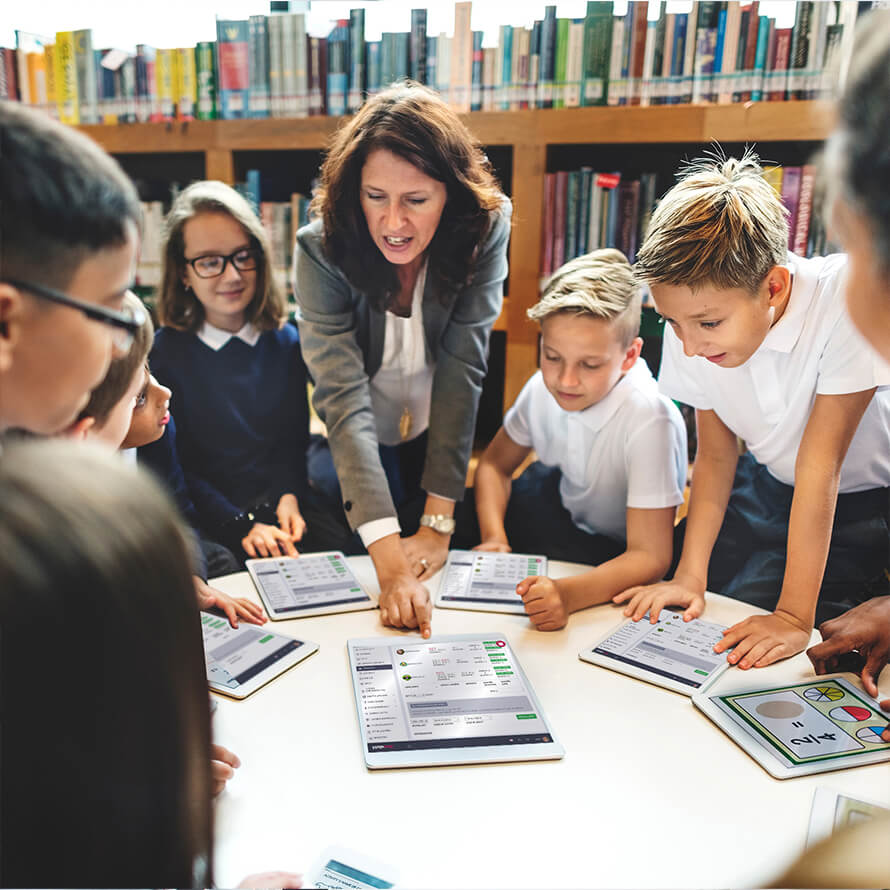 The app's functionalities are designed to cover four important aspects related to the school's administrative and financial aspects, to the child's academic progress and the relationship with the family. Thus, the following contribute to the student's well-being:
Newsfeed feature. This is where the school shares updates on events, important announcements, and details about how the institution operates. Using a familiar interface, much like a Facebook wall, along with a notification system, the school ensures that everyone in the community receives the information.
Personalized surveys. Principals, administrative staff, or teachers can create surveys to gather specific classroom details or opinions on significant school decisions, ensuring everyone involved has an equal say.
Handy school progress reports. These reports are a great way to track a child's progress over the years. They make transitioning between school cycles easier by providing a digital record. Teachers and school managers can access a student's academic journey with just a few clicks. Real-time or shortly after observations help build an archive to track a child's growth and take timely action if needed. Parents can access these reports, keeping them in the loop about their child's journey.
Direct messaging on a dedicated channel. Using a dedicated channel, the school can securely and directly communicate various updates with parents. This ensures that personal life and school progress remain separate, giving parents a clear view of educational matters.
Photo-video function. Parents love seeing pictures and videos of their kids. If indeed a picture is worth a thousand words that the child cannot say about his day at school, or that the educator does not have time to provide individual feedback to each parent, by viewing the class's media gallery, parents can gauge their child's environment, involvement, and happiness during their school hours.
Technology alone will not solve the problem of bullying, but it's a piece of the puzzle in a sustainable solution when combined with the suggestions provided. While tech's growth and digital access can fuel bullying, controlling its use in schools helps create a positive and inclusive space where all students feel secure, and parents are more connected to school activities. On a larger scale, technology can contribute to public awareness campaigns and educational materials directly targeting parents and teachers, enhancing their knowledge about preventing and handling risky situations.
---
Kinderpedia
The complete communication and management solution for schools and childcare centres.
Simplifies teachers' work and brings parents closer to their children's school progress.
Recommended articles
---
Want to improve your center quality? Kinderpedia is here to help! Not only do we provide thousands of informational content pieces like blog posts, podcasts, webinars and more, we are also makers of the #1 Rated and Reviewed Childcare Software.