Halloween activities for kids will keep the day rolling with lots of laughter and surprises; let's discover together 13 Halloween activities for kids.
Halloween activities for kids will keep the day full of laughter and surprises; let's explore 13 Halloween activities for kids together. Halloween seems to serve a meaningful role for many children and adults. It continues to be so popular because kids love this holiday because it's the perfect occasion to costume themselves as their favorite characters from books, cartoons or whatever inspires them.
The fact that Halloween traditions have been transmitted and embraced for so many generations is proof of their power. For families who want to spend the day at home, there's plenty to do - you can become crafters, create your own family costumes, you can cook, try a Halloween charades game, a mummy race, or a Halloween-themed obstacle course of your own creation.


Check out this list of 13 Halloween activities for kids for more ideas
Prepare some fun snacks with your little one for Halloween night. Mummy Hot Dogs are sure to be a hit with the kids: you just need some sausages that you wrap in strips of coke, then pop in the oven and you've got a fun snack in tune with the festive mood.
Popcorn is one of the children's favorite snacks. You can make another fun snack with them like this: draw funny or 'scary' faces on transparent bags with a permanent marker, then fill them with popcorn and tie the mouth of the bag with a ribbon. They'll look like delicious, funny ghosts that are just right to enjoy on Halloween night
Read some Halloween books or watch some Halloween movies. Choose a selection of titles and enjoy the time with your kids.
Play "Bob for apples". Fill a bowl with enough water so the apples can float. Then, with the kiddos' hands behind their backs, have them attempt to retrieve the apples with just their mouths. Whoever is able to get the most apples within a minute wins.
Bobbing for donuts. This Halloween activity for kids requires two things: string and donuts. From there, all you have to do is hang donuts from tree branches and invite your kids to eat their hands-free (their hands have to be tied behind their back the whole time).
"Glow in the dark" party. The prerequisite for this Halloween activity? As much glow-in-the-dark decor as possible. Turn out the lights and let the Spooktacular evening begin.
Carving a pumpkin is really pretty easy. With a few short, straight cuts with a knife, you can make triangular eyes, ­a nose, and a toothy mouth. Whether you draw them, carve them, paint them, this remains one of the most symbolic Halloween activities for kids.
You need lots of balloons to fill with sweets and confetti. After you have filled them, scatter the balloons on the floor. On your signal, everyone has to jump on the balloons and pop them. Whoever pops the most balloons and collects the most candy wins.
Turn oranges into mini pumpkins. Draw their eyes, mouth, and nose like a carved pumpkin and enjoy the children's laughter at the sight of the funny fruit.
Make your mummies. You'll need a lot of toilet paper for this game. Split up into teams and pick one person to be the mummy. Then, it's up to the rest of the group to wrap them in TP until they, well, actually look like a mummy. The group that mummifies the fastest wins!
The best way to entice the kiddos to your front door to trick or treat? A wreath made of candy, of course. Let your kids help you build it by choosing the candy selection you place on the cardboard platform.
One of the funniest Halloween activities for kids: fashion a ghost garland. To get started, you'll need to gather leaves from the park. Then, paint the leaves white and draw a spooky face. To turn them into a garland, all you'll need is a hole punch (although you can probably punch each leaf carefully with a needle) and some string.
Decorations with your palm prints. Trace your child's hand, then paint it white. Afterward, turn it upside down (so that the palm is the ghost's head), drawing a scary face after it.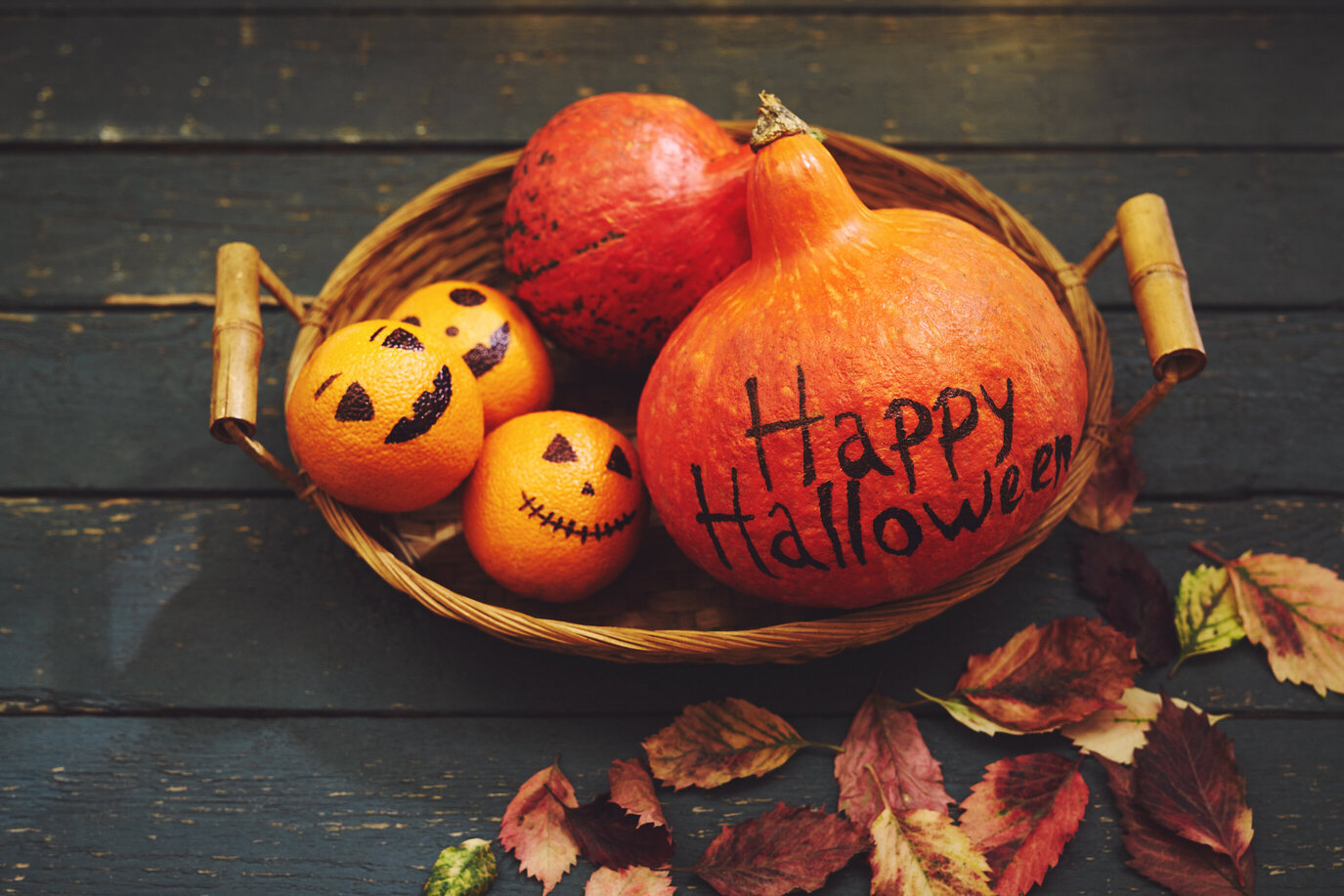 Finally, a brief look at the history of this holiday. Halloween is a holiday of Celtic origin, spread in the 19th century by Irish immigrants in the United States. It is celebrated on the night of October 31, and specific to Halloween is the carved pumpkin representing Jack-o'-lantern. The name comes from the English phrase All Hallows' Even, the name of the Christian feast of All Saints.
In the hope that we have inspired you to play and cheer, let's get ready with a smile and enjoy these 13 Halloween activities for kids, contributing to our fondest childhood memories.