School is coming up, and with it the routine medical visits. It's not something to get very excited about, but there's no need for anxiety either, not among parents and especially not among children.
If fear of the doctor does make an appearance, it is very easy to identify it in children, either in their agitation when it comes to the subject, but also in the physical reactions they have. What do we do in this case? All we can do is help children to embrace their fear of the doctor, to accept fear as a natural feeling. We can help them by clearly explaining the steps we will take at the doctor's visit, talking to them about the doctor as a hero who just wants to make sure everything is okay, not as a threat for the shenanigans they do every day.
What do studies say about children's fear of doctors?
A renowned survey from the
University of Michigan Health - National Poll On Children's Health
shows that for children aged 2-3 years, fear of the doctor (66%) and anxiety about strangers (43%) were cited as the most common causes of fear of the doctor. Also, in the case of children aged 4-5 years, parents said that the most common reason was the child's fear of getting an injection (89%), followed by anxiety about strangers (14%) and unpleasant memories of being ill (13%).
Parents used a variety of strategies to help their children aged 2-5 prepare for a visit to the doctor. Many tried to educate their child about what would happen at the doctor's visit by talking about the steps of the doctor's visit, playing with a toy medical kit, reading a book (Team Friends of the Măsimtbinescu, Franklin Goes to the Hospital), or watching a show about going to the doctor. Other parents tried to reassure their toddler by promising a reward after the visit or telling him there would be no injection.
Causes of fear of the doctor
Specialists at Valley Children's Healthcare say the reasons children worry can vary depending on age, personality and health history. Here are some common reasons why a child might feel afraid to go to the doctor:


Separation anxiety
It's not uncommon for older infants, toddlers and preschoolers to fear separation from a parent. This is a natural part of development and is not considered abnormal unless the anxiety is severe, occurs daily for more than 4 weeks, or persists past age 6.


Grief

School-age children are often concerned about the pain associated with visiting the doctor. The most common concern, as studies show, is whether they will need an injection.


Fear of the unknown
It's not uncommon for doctors and parents to use words or terms that children don't understand, which can make some children worry that something is wrong. Children may also worry about having surgery or being hospitalised.


Fear of death
Children begin to understand the concept of death around the age of 4, with full understanding by the age of 7. Children with chronic medical conditions or who have lost a loved one may worry about death, but by simply talking to a loved one, this fear can disappear.


Many things about doctors can be scary for younger children. A doctor who is tall or has a loud voice can seem intimidating. This is especially true when meeting a doctor for the first time, as your child will be examined by a stranger in a uniform.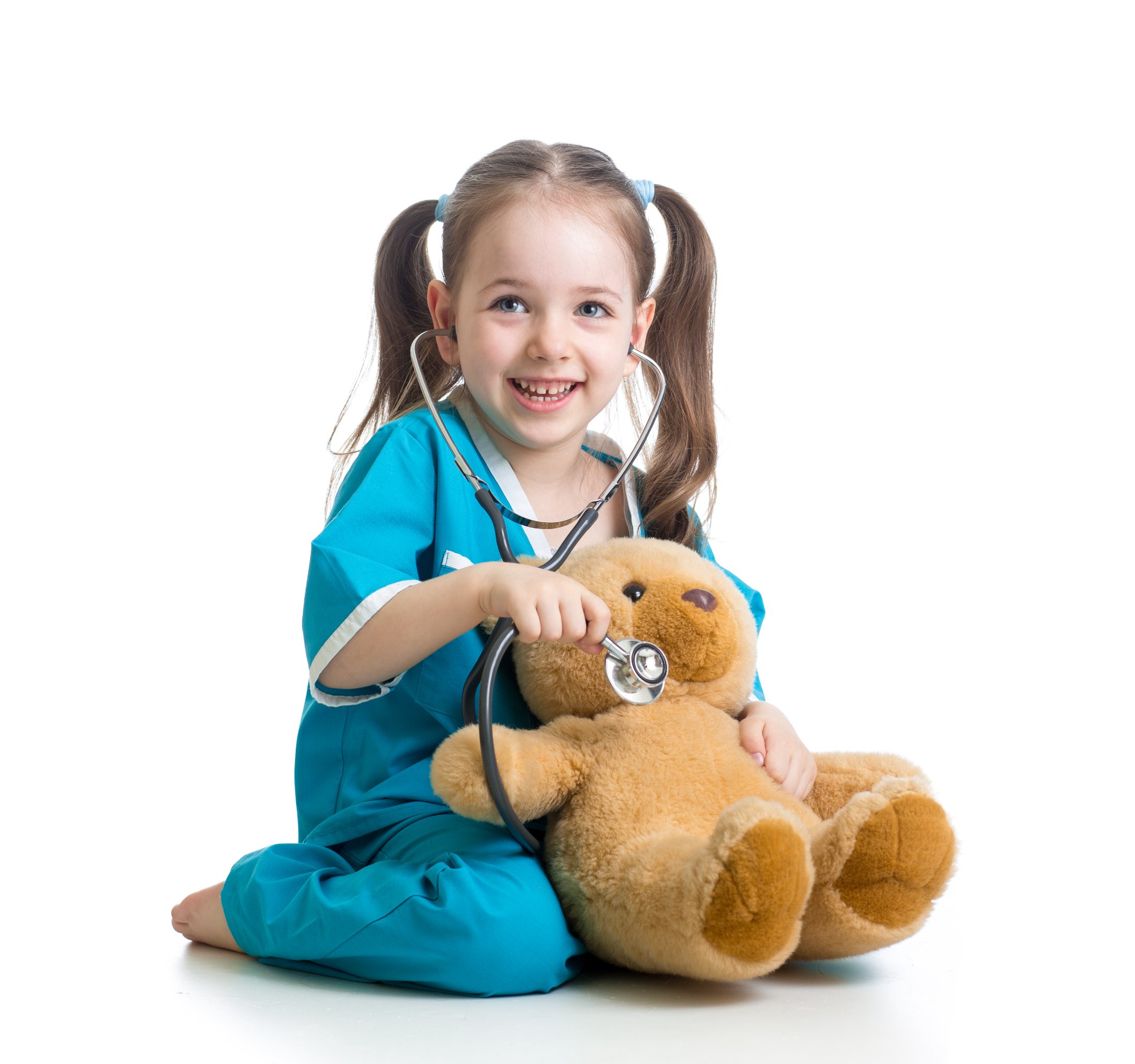 How can you help your child embrace their fear of the doctor?
The Child Mind Institute offers suggestions on how parents can help their children overcome the anxiety of a doctor's visit.

Speak in your child's language.
For kids who are afraid to go to the doctor, knowing what to expect can be a big help. "When kids are anxious about going to the doctor, they often imagine something much worse than what will actually happen," says Rachel Busman, PsyD, clinical psychologist. "They may worry that everything is going to hurt or think that having to go to the doctor means they're sick."
Also, says Dr. Busman, kids who don't expect an injection - or a long wait - and get one are more likely to become anxious or upset than those who have had time to prepare. Explaining how the appointment will go step by step will help the child manage their expectations and anxiety.
Avoid using general terms or vague explanations such as "Don't worry, don't worry", "The doctor will do a check-up". Instead, explain each stage in a clear and detailed way that your child can easily understand: "After we enter the examination room, the doctor will listen to your heartbeat with an instrument called a stethoscope...".


Don't make exaggerated promises.
If your child fixates on the BIG question - "Will I get an injection?" - it can be tempting to reassure him, even if you're not 100% sure he won't need one. But it's best to be honest about what you know - and what you don't know.
"It's important not to lie," says Bernhard Wiedermann, MD, an infectious disease specialist at Children's National Health System in Washington D.C. "It's better to say, 'I'm not sure, but we can ask the doctor when we get there. Speaking directly will help build trust and ensure that your little one won't feel betrayed or taken by surprise if things don't go according to plan.


Validate your child's feelings.
"When children are anxious, as parents we want to tell them, 'It's going to be okay! There's nothing to be afraid of,'" says Dr. Busman. "But by doing that, we lock the child in." Instead, she says, parents can validate feelings and model healthy ways to manage fear.


Overcome worry.
Once you've talked about how the doctor's appointment will go, give your child a chance to talk about why they're nervous and ask any questions they might have - even if it takes a while to get there. "Kids don't always know how to explain what they're feeling," says Dr. Busman. "If your child simply says, 'I don't want to go. I'm scared,' help him work on specifying what makes him anxious. That way, you can address the problem more effectively. If your child is having trouble expressing his concerns, try asking questions to help him narrow them down.


If your child isn't feeling well, he or she may not be the only one feeling anxious. When children are sick, it's normal to be scared, but it's important to manage your anxiety in an appropriate way, without passing it on to your child. Of course, as we also guide your child, it doesn't mean you shouldn't express your concerns to the doctor, just that it's important to find the right time - and place - to do so.


Help the doctor.
"As physicians, we want our patients and their families to feel comfortable," says Dr. Wiedermann , "and having feedback from parents can be very helpful." Tell the doctor about methods that have been helpful in other situations and how your child felt in a similar situation.


Talk about doctors at home.
Talk to your child about the way doctors look, joking about their white coats and fussiness. At the same time, present doctors as heroes with human faces who are still sometimes sad and helpless, just like any of us. You can tell your child that he can ask the doctor any question or uncertainty he has and that he will certainly answer it.


Remove any threats about the doctor.
Under no circumstances threaten to take him to the doctor when he's naughty or, worse, to take him for an injection. In tense moments, many parents still resort to these threats, and the consequences are serious and often long-term.


Adults go to the doctor too.
Finally, explain to your child that even adults go to the doctor when they don't feel well, and that the doctor's role is to solve their problems and help them stay healthy and feel better. You can tell them about your experiences of visiting the doctor.
How does Kinderpedia support teacher-family communication?
Kinderpedia
supports communication with the family and helps parents to stay informed about their children's health, especially during their time at school or kindergarten.
By simply updating your child's health status on quick alerts, the family can find out if the child has had a low fever, eaten properly or fallen asleep at lunchtime. Here's how you can update the medical record, upload a doctor's prescription or medical exemption right in the Kinderpedia app.