5 key takeaways from GESS webinar on Early Years Education
---
20 April, 2023
Last week, we supported Global Educational Supplies & Solutions (GESS) to host a webinar about the best approaches to early years education. If you made it, thanks! We had a great turnout of engaged audience members. If you weren't able to make it, the recording is available here.
What we do with our children now is the FUTURE. - Dr. Sarah Rogers
Today, we want to share with you 5 key takeaways from the webinar, hoping that they might help your practice. We will explore questions like: How early years should look like? How can we meet our children's needs in an inclusive and empowering way? The webinar was moderated by Dr. Sarah Rogers, CEO, EYES & Quest Direct. With an amazing panel of educational experts: Lama Bechara - CEO of Middle East & India, Babilou Family, Matthew Silvester - Head, The International Early Years Curriculum (IEYC) and Suzanne Perkowsky - Head of Academics, Boundless Life, the conversation was focused on how can we address the problem of what we really see as the fundamental needs and rights of every young child, wherever they are - no matter the geographical location, the cultural background etc.
Investing in early childhood means funding proven programs and innovative strategies for children from birth to age 5 that:
Strengthen families in their role as their child's first teacher
Improve the quality of early learning environments like preschool and child care, and expand access to those programs
Promote prevention and early identification of health problems that can impact learning later on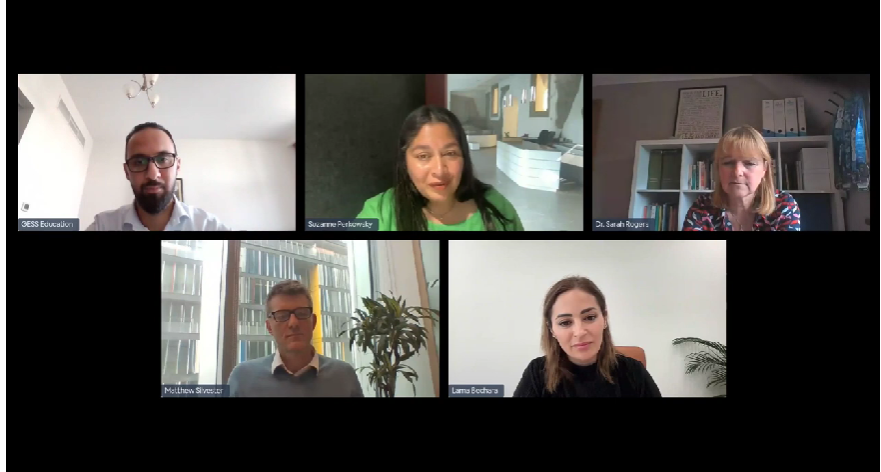 Matthew Silvester - Head, The International Early Years Curriculum (IEYC)
"At this core, every child needs someone involved."- Matthew Silvester
1. Children need involved adults
When we talk about their rights, we highlight their right to join in and have fun. They should have a discrimination-free environment, with opportunities to play with others and enjoy a lively atmosphere. Alongside education specialists, the family also needs to be aware of children's needs. By collaborating closely with families, we can provide the best support and create a cohesive educational experience. Investing in early education is the most important investment in education we can make.
"I do think that legislators or curriculum providers or people with a leadership role across communities and schools actually have to really work on making sure that their initiatives are flexible. In early education, creativity is a community resource and an important one."
Lama Bechara - CEO Middle East & India, Babilou Family
"If you are in this field, and you have this global mission, you have to have it innate in you to understand children's basic needs. Every employee in this field or every early child care professional must also understand that a child's basic needs from actually physical security from actually providing them with food, with physical care."
Lama states that before children can play and learn with well-being and become independent and self-confident adults, they need to have their basic needs met. As educators, we need to understand these basic needs and actively work towards creating an environment that supports their fulfilment. We have to understand the science and neuroscience that tell us a lot about a child's development, physically, cognitively and emotionally. "We address cultural adaptability, kids need a sense of belonging and more confidence in where they come from and a sense of being accepted for who they are and accepting others and feeling included."
2.
The leaders need both global and local perspectives
The leaders need both global and local perspectives every child is unique, and every child develops at a different speed and has different unique properties and today we need to talk about general guidelines, but with a personalised approach. The specialist needs all the resources and tools and knowledge to implement any curriculum in a very local personalized way to the child level.
3. Each educator or specialist has their own perspective
Each educator or specialist has their own perspective and their own set of what they've learned in their communities, and it is important not to lose that, but to harmonize it with a general curriculum. A song or a story from a specific community can make a difference.

"When we share information from your own cultural background with others you feel seen, and you build a strong sense of belonging, and we really want that."-Lama adds

Suzanne Perkowsky - Head of Academics, Boundless Life
When we talk about early education, we are talking about a system that supports every child to reach their potential. We need good strategies, excellent resources and quality people.

Suzanne adds that education professionals need to meet children's needs where they are. "In the environment where I work, adults deliberately choose a lifestyle for their children where there is focus and attention to meeting needs."
4. The curriculum has to offer some guidelines
The curriculum has to offer some guidelines, but what the teacher does in the classroom has to be led by the children and by their particular needs. "Empowering the educators that trust your judgment, trust the kids, trust what the kids want to learn" was one of the key ideas that Suzanne highlighted. Learning is a journey not only for the kids but also for the adults. "I learn something new every day" - Susanne said.
5. We have to bring in early education what we want for our kids to be in the future
If we want intercultural communities and responsible adults with open-minded perspectives, we have to start now, in the very first stage of their learning journey. You can access the webinar here: GESS Talks Webinar 17 - Exploring contemporary visions of Early Years Education
Kinderpedia helps schools and childcare centres simplify their administrative and financial flows, save time and foster a dynamic communication between students, teachers and parents. Trusted by more than 2,000 schools and nurseries in 25 countries, Kinderpedia offers tailored solutions to the most common digital challenges of any education institution: school management, classroom management, student progress tracking, family engagement and school financial management.
---
Kinderpedia
The complete communication and management solution for schools and childcare centres.
Simplifies teachers' work and brings parents closer to their children's school progress.
Recommended articles
---
Want to improve your center quality? Kinderpedia is here to help! Not only do we provide thousands of informational content pieces like blog posts, podcasts, webinars and more, we are also makers of the #1 Rated and Reviewed Childcare Software.