September is the month of the year when teachers prepare their classrooms, plan inspiring lessons and, perhaps most importantly, welcome their new students.

The first day of school usually involves a lot of getting-to-know-you activities, helping students and teachers learn names and get to know each other better. But the journey of the new school year is just beginning, and the first day should be the first of several days focused on building community in the classroom.
Getting to know each other and settling in during the first days of school
Starting school brings with it a lot of emotions and feelings. The first few days are essential for the children in your class, especially in terms of getting to know each other in the group, settling in and the atmosphere created. Get to know your pupils through play and help them to get to know each other, create their own games and play them together.


Harvard Business Publishing Education
research shows that when you build relationships with students, getting to know them and letting them get to know you, as well as getting to know each other, they will perform better. By knowing their backgrounds and interests, you'll be better equipped to connect classroom content to their lives. You will also enjoy spending time together more, and they will certainly enjoy it too.
10 activities for the first days of school
''The power''
All you need for this exercise is a ball. Explain to the children that the person with the ball has the power and can ask any other member of the group a question. Participants pass the ball to each other, each time asking a question and receiving answers that encourage group sharing.
"Color my world"
Hand out coloured pencils and sheets and ask students to write their favourite colour. Then, in turn, they each announce their favourite colour and for each letter in the word name a personal characteristic. This exercise encourages self-discovery, can be comical, but is also a good mind-training exercise.
"Let's get to know each other through mime!"
Mime is always a great idea to lighten the mood in children's groups. In this activity, children sit in a circle. They each say their first name and then mime their favourite game/activity/hobby and their peers have to guess. You can start by miming your hobby yourself. This way you will get closer from the first days of school.
"Twins"
For this activity you will need movie/character name cards - two of each. Students will sit in a circle in pairs and each participant will draw a card. Then each person will try to find their 'twin', i.e. the person with the same card. Mention that each child will have to get to know each other and share something about themselves. After each has found their buddy, they will have to find 3 things they have in common which they will then present.
"I appreciate you for..."
Each pupil is given an A4 sheet of paper, which will be taped to their back with tape. Once they all have the sheet taped up, they will each write a reason for appreciating the other participants on their backs. Now that all the participants have written down the reasons why they appreciate them, each participant will take the sheet off their back and read what they have written. This activity increases the children's self-esteem, but it will also make the whole group more united.
"Baby photos"
After the first few days of school, ask the children to bring a photo of themselves as a baby. Arrange the photos on the floor so that each pupil can take a photo, trying to guess which person it is. After guessing, each can tell a nice childhood memory. What better way to bond during the first days of school?
''Business cards''
Each student will receive a business card with the following headings: First and last name, Age, Place of origin, Hobbies. The pupils will fill in the business cards individually with their personal details, after which the teacher collects each card and distributes them to the pupils, this time each pupil will receive a colleague's card and not their own. The children then present the cards to the class, learning new things about each other.
Bingo!
Each pupil is given a game sheet, an A4 sheet, on which there are different headings. Pupils have to go around the classroom and find those who can fill in one of the boxes in the table so that they make a line (vertically or horizontally). When a pupil has completed a line on the sheet, they shout "Line!". The game is repeated until a student performs "Bingo!" and has all the boxes filled in with their classmates' names. You can create your own bingo game or download and print the Kinderpedia template.
We attach a "Bingo!" sheet. which you might find useful. Download the sheet to use in class.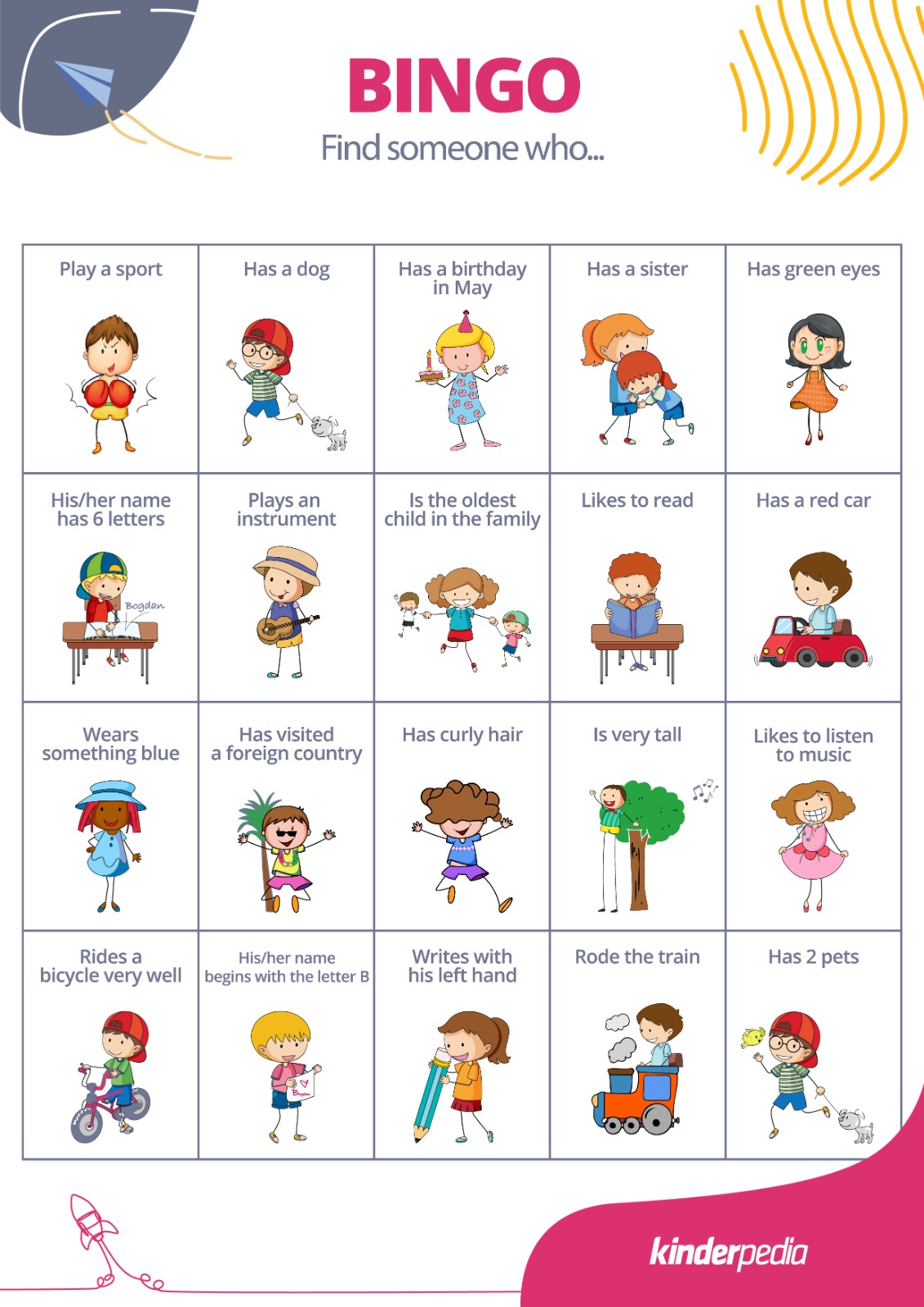 "Secret Identity"
All students sit in a circle and write, without seeing another classmate, on a post-it note the name of a personality. Attention! It is important that everyone knows the person, be it a star, a sportsperson or an actor. Then they stick that post-it on the back of the person on their right. All the students go around the classroom and ask their classmates questions to find out the name that is written on the back. The activity ends when everyone guesses the person they have been assigned. "Secret Identity" is a game that will bring lots of smiles to the classroom.
"Sherlock Holmes"
Each pupil becomes a detective for a lead, such as the trail of talented painters or singers. The rule is that everyone is allowed 4 indirect questions. You can never reveal your identity by giving direct questions about the track you started on. If after the answers the student thinks he is sure of his discovery, he will say "You are a good painter", or "You are a good singer". When the other confirms or denies the claim, the detective will have to explain how he came to this conclusion, what questions helped him to find this out. Be creative and create your own leads based on the passions the children in the class have in common.
If the weather permits, for a more enjoyable atmosphere, you can hold all these activities right in the schoolyard or in the nearby park.
Nature
brings a host of benefits.
"When we take the time to get to know our students on a personal level and are culturally responsive, we show them that we really care about them." Rita Pierson
Regardless of learning outcomes or behavioral needs, children are aware when they feel included in a community. Once they feel a sense of belonging, they will invest in their learning rather than being passive recipients of information.
Fostering a sense of community in the classroom can be challenging, but it is worth the effort. First week activities such as role-playing to help students understand what respect looks, sounds and feels like and participating in a shared activity are fantastic ways to start the new school year.
How Kinderpedia supports the transition to a modern classroom
Kinderpedia
encourages children to adapt from the first days of school. It makes it easy for teachers to introduce pupils to interactive and engaging resources that encourage them to take an active role in their own learning process. It also keeps parents connected and involved in their pupils' education. It enables schools to collect and analyse data at different levels in order to improve learning as well as teaching practice in general.