Building a close relationship with pupils is the basis of a positive school culture. The way pupils interact with teachers, other members of the school and each other is directly related to how they are received on their first day and the attitudes of the adults they interact with.


A review of more than 800 research studies over 15 years has shown that building good relationships with pupils has a positive impact on their future school performance. In classrooms where a positive pupil-teacher relationship was established, children's academic performance was above average.


In order to create a healthy socio-emotional climate, the behaviour of teachers and their attitude towards pupils' development is important. Teachers who believe that all pupils can progress, that they need attention and can always ask for help are more likely to form a close relationship with them from the
first day of school
.
The better the relationship, the more students are engaged in the learning process.
Although it can sometimes be difficult to build a close relationship between pupils and teachers, there are a few steps that teachers should take, from the first day of school, to motivate children and build a good teaching and learning environment.
Summery:
Every detail counts
Often students, especially those who are marginalised, feel invisible at school. As a result, the first day of school is the best time for students and teachers to get to know each other and build a healthy relationship.
To show that students' identities matter, teachers should learn their names quickly. The use of nicknames is only recommended if students prefer them.


Each pupil has their own needs and the earlier teachers get to know them, the easier it will be to help them and provide a supportive learning environment.


Pupils also have different interests, likes, dislikes, hobbies and family situations. It is good for the teacher to know details of the pupils' personal lives so that they can build a close relationship with them. One way to find out more about them is to fill in a questionnaire at the beginning of school, in which both pupils and teachers answer a few questions about themselves. However, it is good to let the young ones know that this is not a compulsory task, but just a way of getting to know them, so that they do not feel any pressure when answering the questions.


In addition to information about children's passions and interests, teachers should also find out how they would like their lessons to go at school and what qualities they think a good teacher should have, what would be good and what would be wrong in their relationship with them. At the same time, teachers can mention from the outset what they value in pupils and how school activities will go.
Feedback is important for both teachers and students, so it could be a tool to build a healthy relationship.
Student voice is important
To build a strong and lasting relationship, teachers need to put students first and give them time and space to talk about their successes as well as the problems they face. Because student voice is important, they can make their voices heard from the first day of school.


Allowing them to speak freely and finding a friendly space in which to express themselves makes it easier for students to share their fears and needs. At the same time, they can socialise more easily with each other.
Students often don't feel comfortable giving too much detail about themselves because they see the classroom as a formal setting where they should just listen and learn. However, pupils' attitudes depend very much on the relationship they establish with the teacher from the first day of school. If the teacher shares details of his or her personal life or interests with them, the pupils will do the same.


To remove barriers to learning, teachers can take a few minutes every day to look their pupils in the eye, listen to them, give them advice or praise them and have a positive attitude. Pupils deserve to have adults around them, including at school, who care enough about them to build positive relationships that give them space to make mistakes and learn. For students to learn and become passionate about what they are studying, it helps to know that teachers care about them. They also need opportunities to learn about each other so that they can build a community in which they can grow together as learners, and for this to happen their voices need to be heard.
Humour is essential
A sense of humour helps to lighten the mood in the classroom and helps students relax. Although teaching and learning are two processes that should be treated seriously, this does not mean that humour cannot be included in everyday lessons.


Humour comes in many forms, and students can participate more enjoyably in a class where learning and fun make a good pair. A funny story related to the topic of a lesson or a joke made by the teacher when he makes a minor
mistake
can give students more confidence, showing them that mistakes are natural and that lessons, although they may have boring details, are interesting and can hold their attention.
So it would be good for teachers to show pupils from day one that it is OK to make fun at school, that it is OK to laugh in class and that lessons can be fun. Humour can break down walls and build strong relationships between teachers and students.
Positive attitude is contagious
Positive relationships with students are necessary for school success. When students feel supported, the chances of them engaging and performing well increase. In addition, when students have positive interactions with teachers, they have fewer behavioral problems.


Everyone has bad days, including teachers. Although some personal challenges can be difficult to manage, it is essential that these problems do not interfere with the ability to teach.


If the teacher has a positive attitude and teaches with joy, the students will also have a good mood. Social activities, such as positive and fun conversations, cause the body to release the hormone oxytocin, which helps to relate better to others. This makes students feel psychologically safe and more willing to participate in class discussions, ask
questions
or try to solve a difficult topic.
That's why it's good for teachers to adopt a positive attitude from day one, to show pupils that school is a friendly place where they can feel safe to talk about what's on their minds.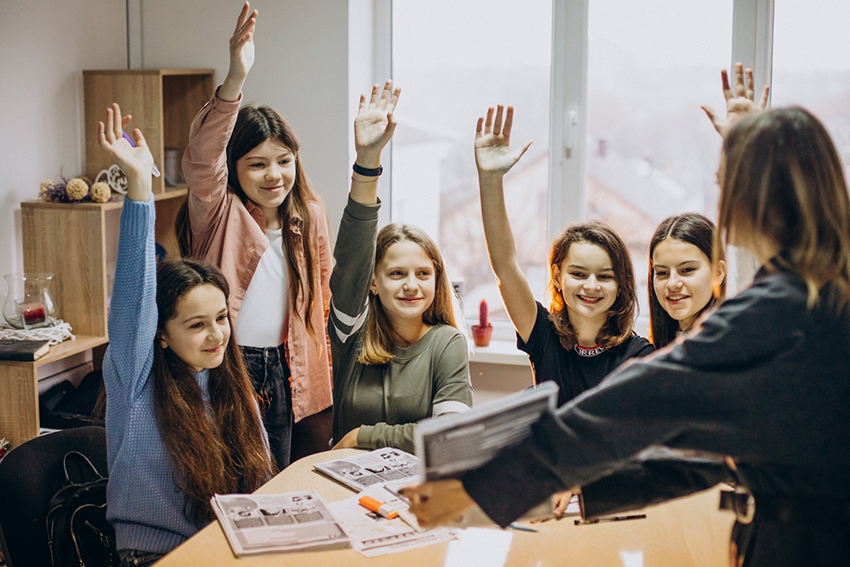 Trust strengthens the teacher-student relationship
Mutual trust is important in any relationship. Often teachers take the lead in building trust. One way for teachers to lay the first bricks in building trust is to talk to students about themselves. What led them to pursue this career, what challenges they faced and how they overcame them, what qualities they value in their students and what they resent - all of this information will help students get to know their future mentors better and to connect with them.


Stories always attract attention and open the door to more and more discussions. That's why the first step in building a relationship based on trust will often be taken by the teacher.
Sometimes the school format is rigid and doesn't leave much room for creative interaction, but a communication app like Kinderpedia creates an open channel for dialogue and allows teachers to send warm, empathetic little messages, videos, stories and pictures to students to help them build common ground and start new discussions. Keeping parents close, through a simple and friendly interface, turns the school into a warm community based on empathy and mutual support.
Building a healthy relationship with students is one of the most important aspects of the educational process. Everything flows from this relationship. The trust and cooperation gained from a positive connection with students will influence most activities at school. This connection can lead to productive classes and increased student academic performance.
Photo source: Freepik
Resources:
https://www.wgu.edu/heyteach/article/6-easy-ways-to-build-relationships-with-your-students1908.html
https://www.edutopia.org/article/6-strategies-building-better-student-relationships
https://www.teachthought.com/pedagogy/strategies-build-relationships/
https://apertureed.com/5-strategies-building-relationships-students/
https://www.thoughtco.com/develop-positive-relationships-with-students-3194339
https://www.understood.org/en/articles/brain-science-says-4-reasons-to-build-positive-relationships-with-students
https://www.pbisrewards.com/blog/building-relationships-with-students-8-ways-connect/
https://education.missouri.edu/ebi/build-strong-relationships-in-classrooms/
https://apprendre.auf.org/wp-content/opera/13-BF-References-et-biblio-RPT-2014/Visible%20Learning_A%20synthesis%20or%20over%20800%20Meta-analyses%20Relating%20to%20Achievement_Hattie%20J%202009%20...pdf