The benefits of bilingualism on children's development
---
31 July, 2022
The benefits of bilingualism on children's development are increasingly discussed, with bilingualism being a relevant and important topic for a changing world.
The benefits of
bilingualism
on children's development are linked to academic achievement, social abilities, multicultural skills, cognitive flexibility and long-term academic and professional opportunities.
How can we define bilingualism?
Definitions of bilingualism can vary, since there are several perspectives in the related literature.
Bilingualism
is the aptitude to use two languages and involves rich vocabulary in two languages, accents, grammatical structures, expressions, oral and written comprehension skills, writing skills and comparing levels in the two languages. Given all these characteristics, the definition of bilingualism, as mentioned above, is problematic. A person can meet only one of the above competences and be defined as bilingual, and not necessarily meet the others.
Definitions of
bilingualism
can vary from minimal proficiency in two languages to an advanced level that allows a person to function and appear as a native speaker of two languages. A person can be described as bilingual even if performance in the second language is limited to the ability to speak and communicate orally. Others may be proficient in reading in two or more languages. A person may be bilingual because he or she has learned both languages simultaneously or may be defined as bilingual even when the second language is acquired later.
Bilingualism can be defined in several ways.
Being bilingual means different things to different people.


In a world of transformation, mobility and connections, learning more languages is a real advantage for individuals,
families
and society as a whole.
The cognitive and linguistic processes involved in acquiring and using two languages are systematically different from those involved in using a single language. According to Grosjean, the use of bilingual and/or multiple languages is not only common, but probably characterises the majority of the population. Human mobility, the existence of several languages used within the same community and the existence of languages of circulation encourage the emergence of bilingualism.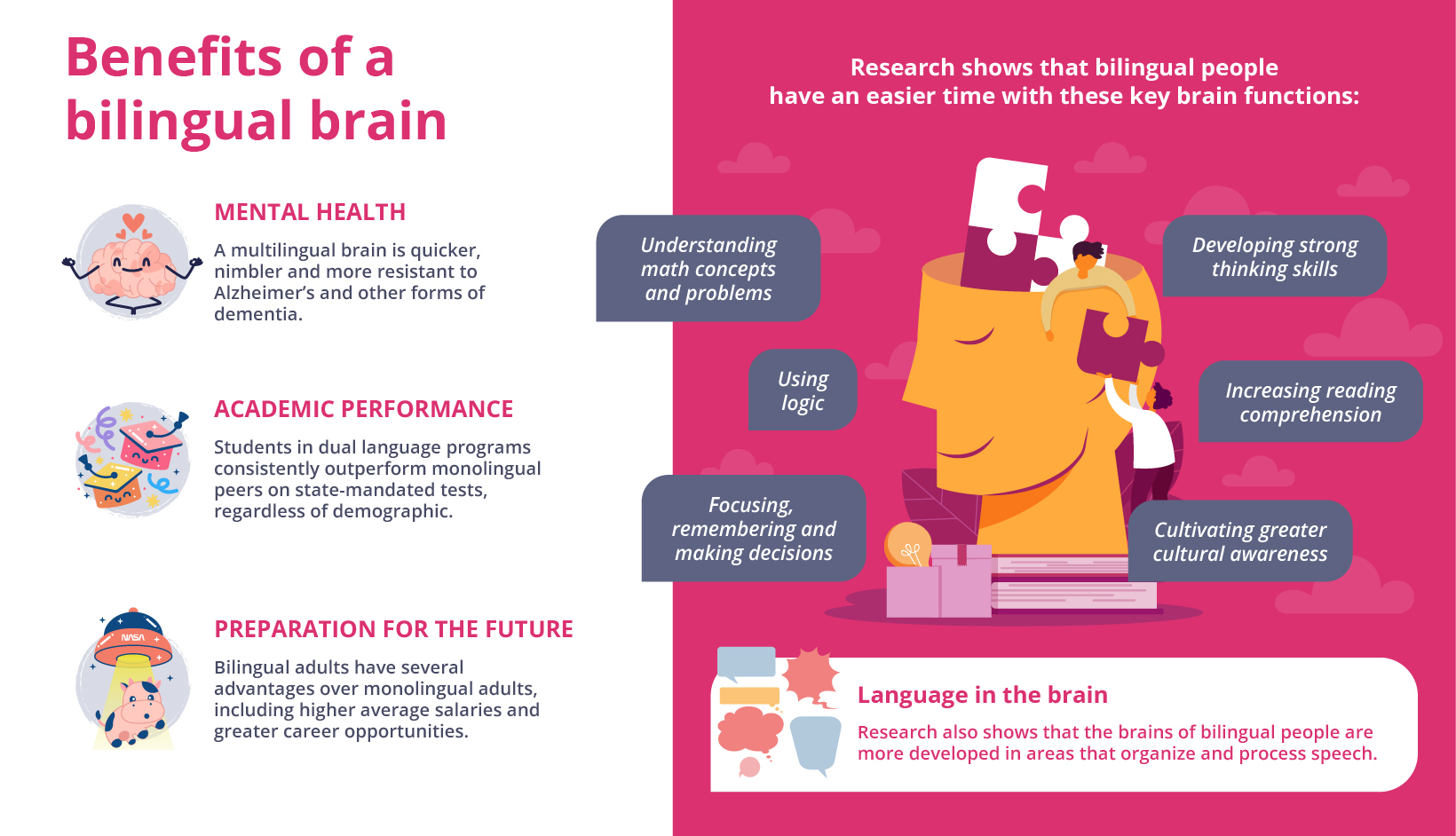 The benefits of bilingualism on children's development

Two thirds of the world's children grow up in bilingual environments

The growing number of bilingual schools shows that parents and the whole school community understand the need to develop this skill early on. Genesee, a researcher in the field of bilingualism, has defined bilingual education in his work as "education that seeks to promote bilingual competence through the use of both languages as a means of instruction for significant parts of the academic curriculum."

Long-term daily immersion in a language other than the mother tongue will not only help your child become proficient in this new language, but will expose him or her to a whole new range of opportunities. Evidence from recent research is beginning to show that if you are exposed to bilingual education and grow up with a high degree of literacy in both languages, you are more likely to develop greater cognitive flexibility. Danielle Pergament, a freelance journalist and New York Times associate, has pointed out in several articles on bilingualism that enrolling a child in a language immersion program influences their later development in countless ways.

Researchers have found that bilingualism involves activating one language and inhibiting the second, depending on the context. Resolving this conflict between the two languages trains the bilinguals' brains and helps them strengthen their cognitive muscles. Bilinguals need a high degree of cognitive control to select the language intended for speaking and to inhibit the unintended one.

Numerous studies have shown that bilingualism - through the continued practice of language control - can have an impact on cognitive function as well as on relevant aspects of brain function and structure.
Preschool children who learn in a bilingual environment tend to be more flexible in their cognitive behaviour and begin to understand more deeply, from an early age, the subtleties of language functioning.
This is thought to be one of the reasons why those exposed to bilingual education develop better mental acuity early on, developing the tools to solve complex mental puzzles. Bilingualism is a complex subject, and and there is still no clear research to suggest the benefits of bilingualism on children's development. However, existing results point to the fact that the benefits of bilingualism on children's development are related to cultural enrichment, school and academic achievement, later career opportunities and children's overall health and well-being.
There are, of course, many cultural benefits of a bilingual education. Intercultural awareness develops when children discover the values of other cultures. The oscillation between two different worlds helps children broaden their horizons, make contact, identify and appropriate the traditions and values of each culture they learn about. This is particularly, but not only, the case for immigrant families and foreign communities, where children can grow up with dual cultural identities. Higher levels of communication skills and the need to develop listening skills can also lead to better social competence, which can help bilinguals adapt more easily to different multicultural environments, as well as be more attentive to subtle cultural sensitivities.


Learning about other cultures is important for children and helps them to understand the world around them. It helps them grow up more open-minded and accepting of differences.
The benefits of bilingual learning are reflected in future opportunities


The aptitude to speak two or more languages fluently has always been extremely beneficial in different professions. However, this is increasingly important in today's modern, globalised world. Fluency in an additional language can make a candidate stand out to potential employers. It also opens doors to additional opportunities that those without these skills may miss out on.


The ability of people to adapt and absorb different cultures is in itself a valuable asset for companies operating in multiple countries and with customers in different locations. In these global companies, employees who speak more languages are likely to be more valued and often better paid. Companies want employees with an innate sensitivity to cultural trends, who are comfortable interacting with a variety of people and who have strong communication skills.


Bilingualism influences children's educational pathways


Often, for a broader perspective on a subject, people turn to foreign researchers, authors, theorists and end up reading articles and papers written in international languages, thus expanding their knowledge base. For this to happen, people need to master at least one international language. Schools train and facilitate children's contact with foreign languages, and universities want a bilingual student community that contributes to increasing knowledge and building a mutual exchange of information between several countries; they will therefore value those students who are able to cope in a language other than their mother tongue.


Benefits of bilingualism on general health


There is a growing body of research on how the cognitive benefits of bilingualism extend to combating neurological diseases and preventing cognitive decline. Research from Cambridge University highlights evidence that bilinguals have an advantage in cognitive ability, social interaction and communication skills. Bilingualism prevents Alzheimer's disease, Parkinson's disease and allows people to retain their cognitive plasticity even into old age.


Dual language use prevents cognitive decline


Karina Chapa, director of language proficiency, bilingualism and cultural diversity at Region One Education Service Center, talked about the revolutionary power of bilingualism in a TED Talk. Karina Chapa talks about the power of bilingualism and its ability to revolutionize education. In the talk, Karina Chapa talks about why bilingual brains are more cognitively flexible and quicker problem solvers; she talks about the words we use socially and the neural connections we make for those words to be formed.

Throughout the 16-minute speech it is explained that although we are talking about two different languages (e.g. Spanish and English), which involve different words, different sounds and different accents, the neural connections that foster the emergence of words in both English and Spanish are interconnected. In the bilingual brain, everything that has been cognitively stored in the mother tongue will automatically transfer to the second language learned, whether the moment of acquisition took place at the age of 5 or 20.


Here
is the full speech and the reasons Karina Chapa brings up to highlight the benefits of bilingualism. The benefits of bilingualism on children's development are countless. Experts recommend bilingual education, but each family must make the best decision, based on the traits of the family members, priorities and future prospects, to decide when to start the bilingual journey.
It is very valuable to look at pupils' progress both from a process perspective and from a bigger picture perspective.
Kinderpedia
is a very easy-to-use professional tool that allows teachers to assess children's progress at any time and share their achievements with parents in real time. Observations and progress reports give teachers an accurate assessment of each pupil's level at any point in the school year.
Find What You're Looking For
---
Kinderpedia
The complete communication and management solution for schools and childcare centres.
Simplifies teachers' work and brings parents closer to their children's school progress.
Recommended articles
---
Want to improve your center quality? Kinderpedia is here to help! Not only do we provide thousands of informational content pieces like blog posts, podcasts, webinars and more, we are also makers of the #1 Rated and Reviewed Childcare Software.